Some links provided in this article are affiliate links. Meaning, at no additional cost to you, we'll earn a commission if you click one and make a purchase. An easy way to help support us if you're going to buy anyway!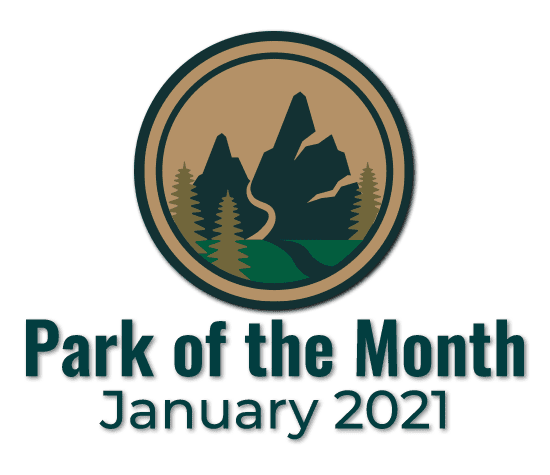 It's time for our "January 2021 – Park of the Month"! Each month, Discover Our Parks will choose a "Park of the Month" to showcase on our site and why we choose to feature it. We will utilize comments, time of the year and other factors when making our decisions. We might even ask you, our adventurers, which park you think should be next.
Without further delay… what park gets January 2021's "Park of the Month"???
Hawai'i Volcanoes National Park
If you haven't seen the news around Hawai'i over the weeks leading up to this article, one of the active volcanoes, Kīlauea Volcano, has been erupting (seen above). Hawai'i Volcanoes National Park is an amazing place with education opportunities abound.
The park was established on August 1, 1916 as Hawai'i National Park but was later split into two parks, Hawai'i Volcanoes National Park and Haleakalā National Park (learn more about Haleakalā National Park here).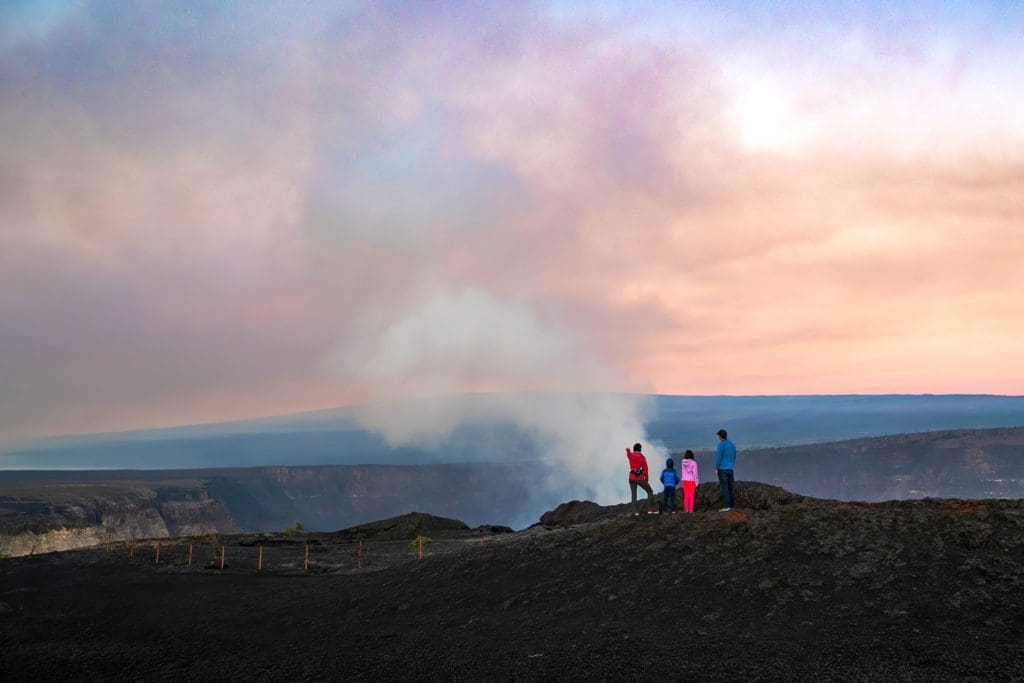 "Today, Hawai'i Volcanoes National Park protects approximately 330,086 acres of public land, which includes some of the most unique geologic, biologic, and cultural landscapes in the world. Extending from sea level to the summit of Mauna Loa at 13,677 feet, the park encompasses the summits and rift zones of two of the world's most active shield volcanoes— Kīlauea, representing the newest land in the Hawaiian Islands chain, and Mauna Loa, the largest volcano in the world."1
Although the volcanoes are the main draw of this park, "this volcanic topography also supports one of the most fascinating biologic landscapes in the world, sustaining highly diverse populations of plant and animal communities across seven ecological life zones."1 Hawai'i Volcanoes National Park is home to 54 federally listed threatened or endangered plants and animals.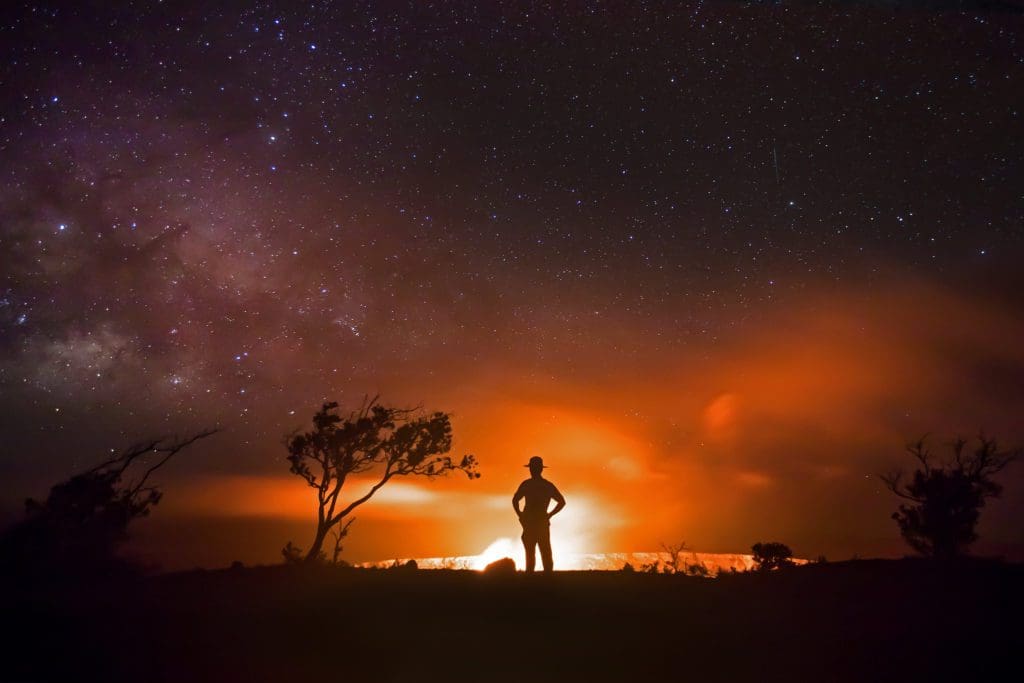 Hawai'i Volcanoes National Park also preserves the historical human developments of the Hawaiian Islands. "Native Hawaiians lived, worked, and worshipped on this sacred ground. Later, in the 19th and early 20th centuries, adventurers, explorers, scientists, philanthropists, and individuals also left their mark on the landscape. Today, ancient petroglyphs, stone walls, and footpaths remain between massive lava flows. Historic housing districts, historic structures, and historic roads dot the developed corridors of the park, together revealing the diverse cultures and history that have been, and continue to play, an integral role on this landscape."1
Why "January 2021 – Park of the Month"?
With colder weather in most of the country, thinking about the Hawaiian Islands sounds great, right! Kidding aside, this park offers many opportunities to explore the amazing geological, biological and anthropological histories of this location.
With the current eruption of Kīlauea Volcano, you can get to see the world changing and growing right in front of your eyes. The beauty of the park and it's processes provide it's many visitors with unique experiences that provide a unique prospective on science.
Check out our recommendations on the driving, hiking and lodging/camping opportunities this spectacular park below.
Some of the below information is currently not available due to COVID-19 restrictions. Visit our Hawai'i Volcanoes National Park page for more information on what is open and what is closed in the COVID-19 Information bar.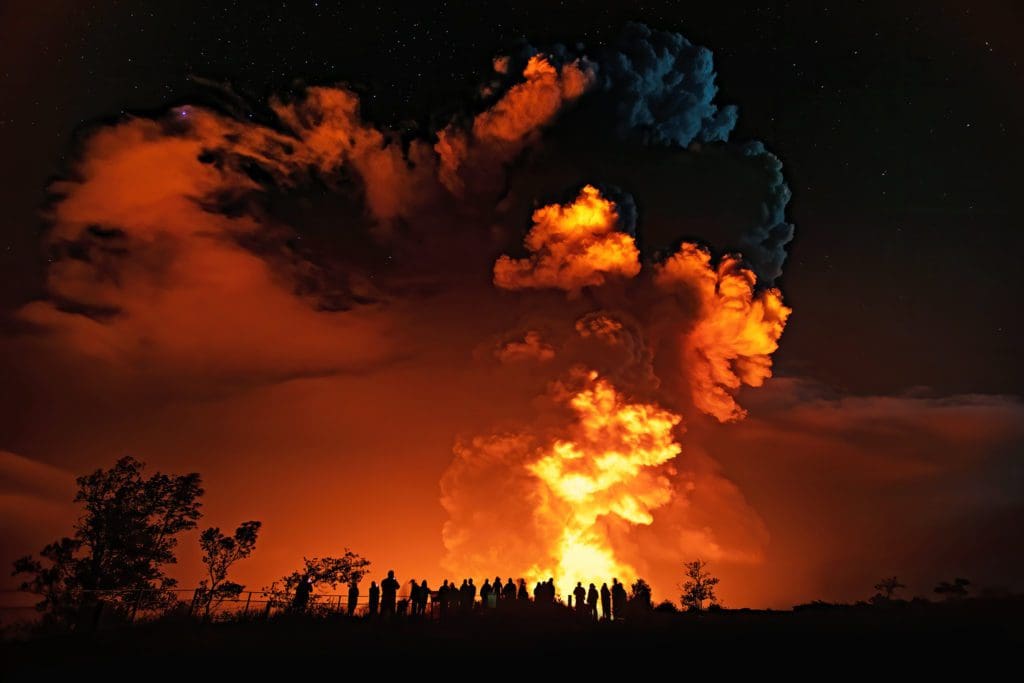 Due to the current eruption at the time of this article posting, some areas and activities might be closed. Visit this page for safety tips on how to view the eruption and protect yourself, others and the environment around you.
---
The Scenic Drives
Our January 2021 – Park of the Month has two amazing scenic drives that allow you to explore the diversity of Hawai'i Volcanoes National Park.
The first scenic drive, Crater Rim Drive Tour, is a way to experience the different ecological zones of the park while driving around a crater! Starting at the Kīlauea Visitor Center you continue to drive to the Kīlauea Overlook at the end of the northern-western most part of the road, which provides a majestic view of the Kīlauea Volcano Crater. From there, you continue back around stopping at the Haʻakulamanu (Sulphur Banks) and the Wahinekapu (Steaming Bluff). You will then head back past the visitor center and head south on the road, just before the entrance station, to the Kīlauea Iki Overlook. Here you can see a tranquil crater which was an extremely active lava lake in 1959.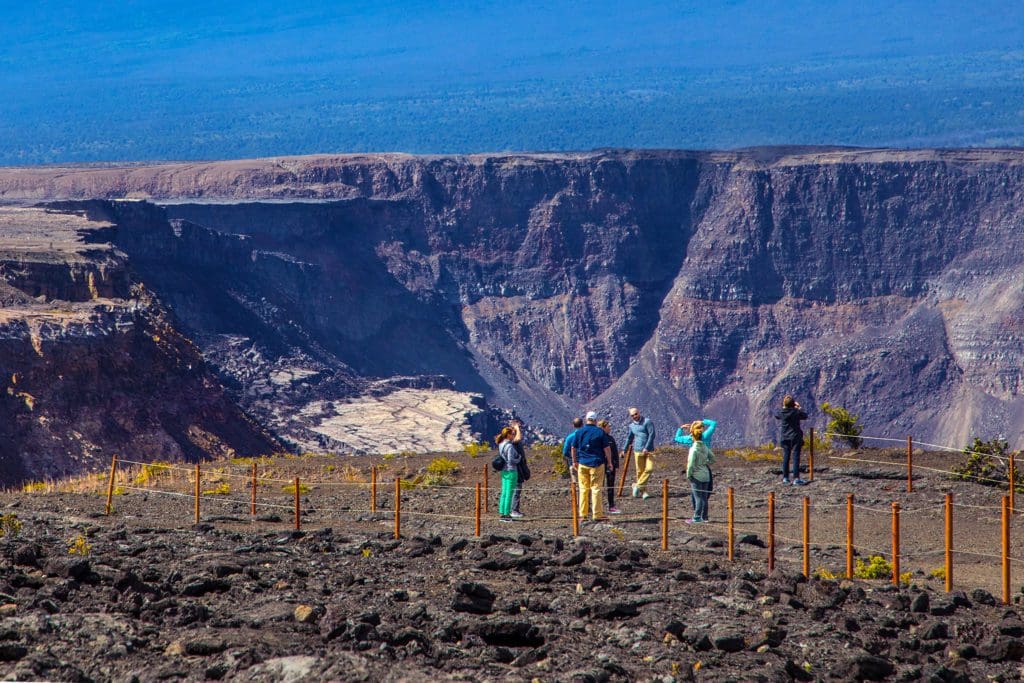 Continuing on the Crater Rim Drive, the next stop is the Nāhuku (Thurston Lava Tube). The Thurston Lava Tube, "one of many such tubes on the island, was created by a river of molten lava. When a lava tube is active, lava travels along its floor at temperatures that exceed 2,000º F (1090º C). When the supply of lava stops at the end of an eruption, or if it gets diverted elsewhere, it leaves behind an empty cave."2 This short day-hike is one of our suggested hikes below.
After checking out the Nāhuku (Thurston Lava Tube), you continue down the road to Puʻu Puaʻi Overlook. This cinder cone, meaning "gushing hill" in Hawaiian, formed in the 1959 eruption of Kīlauea Iki. After checking out this fantastic view, head to the last stop on the drive, which requires a short day-hike, to the Keanakākoʻi Crater Overlook. "Meaning "cave of the adzes", this pit crater lays on the boundary fault that encircles the summit of Kīlauea. Keanakākoʻi was born during a period of great upheaval and summit collapses of Kīlauea during the 1500's to 1700's."3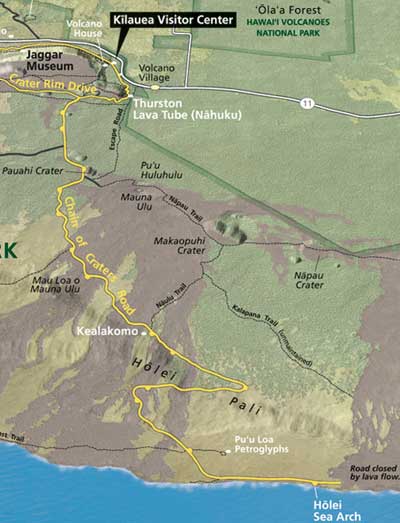 The second scenic drive is the Chain of Craters Road Tour. "Chain of Craters Road (formerly Cockett's Trail) was dedicated on April 15, 1928. Built at a cost of $148,000, it ended at the rim of Makaopuhi Crater."4 The CHain of Craters road has been covered numerous times by lava flow and ash from eruptions. It leads down to the coastal areas of the park, which "was home to a number of villages; Kamoamoa, Lae 'Apuki, Kealakomo and others. Numerous trails, home sites, heiau (temple), petroglyphs and agricultural sites attest to the complex uses of this area over the centuries since first human settlement."4
The chain of Craters Road Tour has many amazing view points of craters and ends with excellent ocean views, where lava hitting the ocean has formed fascinating formations. This road will provide hikes, views and overlooks including Luamanu (Bird Crater), Puhimau (Forever Smoking) Crater, Pauahi (Destroyed by Fire) Crater, Puʻu Huluhulu (Hairy Hill) Cinder Cone, Mau Loa o Mauna Ulu (The Long Continuous Growing Mountain) lava flows, Kealakomo (The Entrance Path) Overlook, Alanui Kahiko (Old Road) pullout and the Hōlei Sea Arch.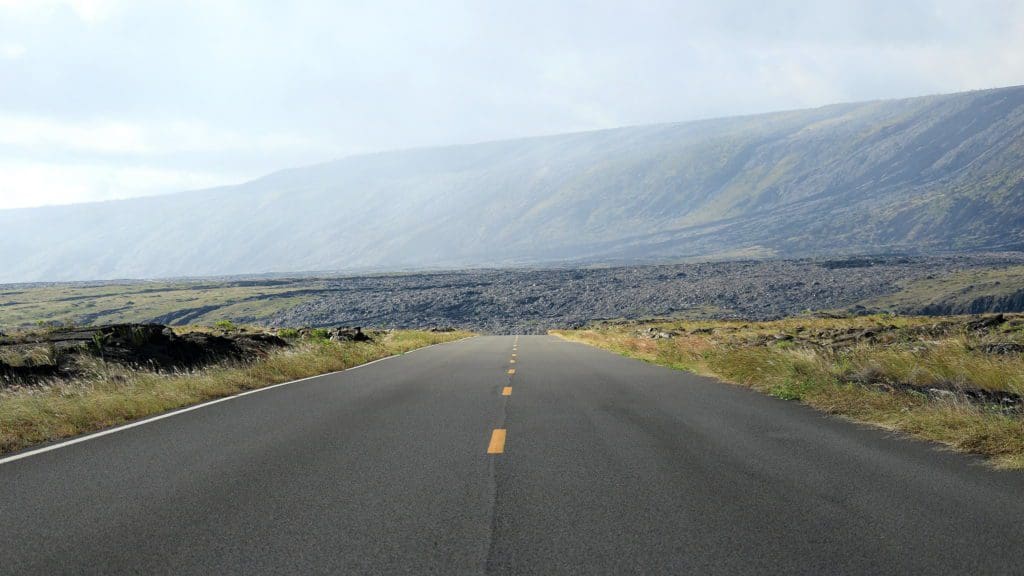 Puʻu Loa ("Long Hill") Petroglyphs is also found towards the end of the Craters Road Tour. "Puʻu Loa is a very sacred and religious place for many of the people of Hawaiʻi and has been used ritually for over 500 years. It is the largest petroglyph field in the state. There are more then 23,000 petroglyph images, mostly "pukas" (cupules) in which a portion of the umbilical cord of a newborn was placed to ensure a long life. Motifs of circles, other geometric designs, as well as cryptic designs of human representations known as anthropomorphisms, canoe sails, and even feathered cape motifs can all be found in this dense concentration."5
No matter which drive you do, or if you do both, the scenic drives provide amazing ways to experience the park from the comfort of your vehicle and allowing you to stop to view the beautiful sites along the way.
For more information on the Crater Rim Drive Tour, visit the NPS page about it here.
For more information on the Chain of Craters Road Tour, visit the NPS page about it here.
---
Hiking
Hawai'i Volcanoes National Park, our January 2021 – Park of the Month, provides many amazing day hiking and backcountry hiking opportunities. Below are are few of our suggestions for spectacular day hikes.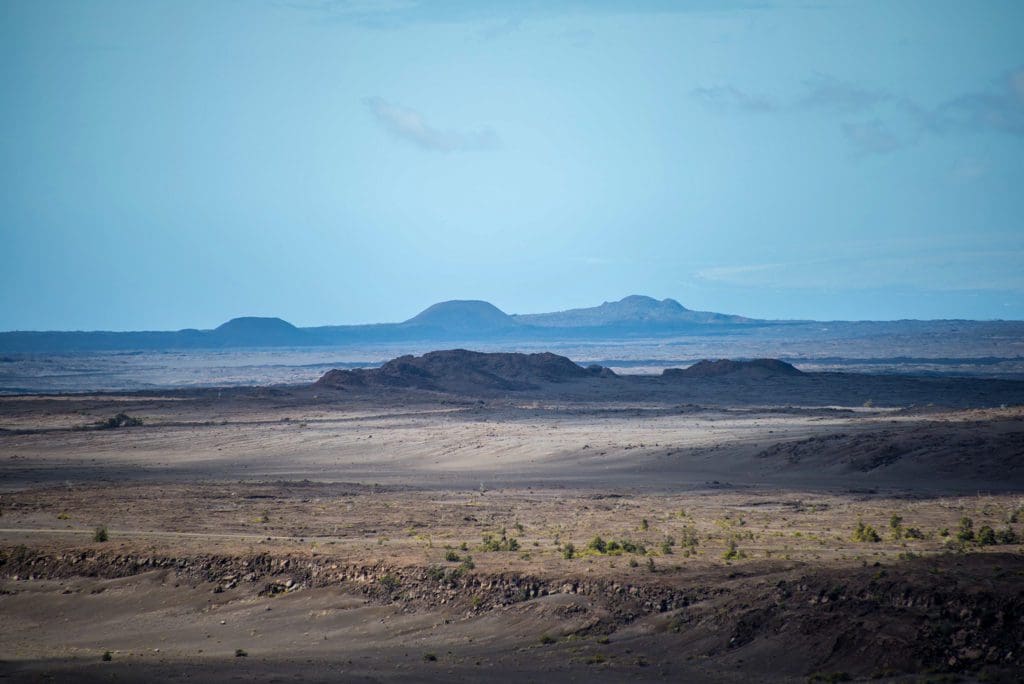 Our first suggestion is the Kaʻū Desert Trail. This moderate 7.0 mile one-way hike takes you into the Kaʻū Desert, "a harsh landscape where volcanic eruptions and ashfall from events in Halemaʻumau crater have created a desolate, moon-like environment."6
"In 1790, a dramatic explosion occured at the summit of Kīlauea. The eruption involved a torrent of hot gas, ash, and sand that rained down on the Kaʻū Desert. Caught in the middle of this deadly, suffocating storm were groups of Native Hawaiians travelling through the region on long-used trails. In the newly fallen layer of ash, these groups left behind footprints that we can still see today— a reminder that Hawaiians have beared witness to the geological drama of this island for centuries."6
You can access the Kaʻū Desert Trail from Highway 11, but we suggest taking the one-lane Hilina Pali Road to the Hilina Pali Overlook. From there you can access the Kaʻū Desert Trail and hike to the peak of the Mauna Iki (Little Mountain).
More information on this hike can be found in this NPS Guide.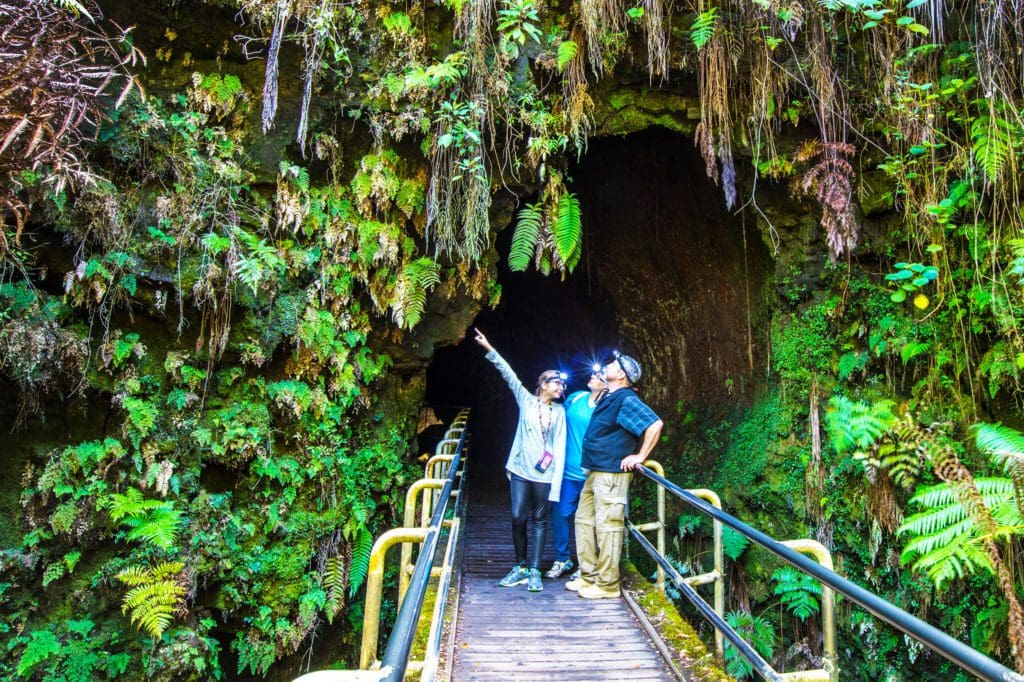 Our second hike suggestion is the Nāhuku (Thurston Lava Tube). This moderate hike can be a 1.5 mile roundtrip hike from Kīlauea Iki Overlook or, our recommendation, a 6.7 mile round-trip hike from the Devastation Trailhead. This recommendation includes the Kīlauea Iki loop.
This hike is a "walk through a verdant rainforest and listen for the calls of native birds before entering a 500-year old lava tube where a river of 2000 degree fahrenheit (1093° celsius) lava once flowed. Its Hawaiian name, Nāhuku, means "the protuberances," which possibly refers to the lava drippings that once hung from the ceiling. Unfortunately, those disappeared due to souvenir collectors after the tube was discovered in 1913. Entire ecosystems of creatures live in these fragile environments found throughout the Island of Hawaiʻi."7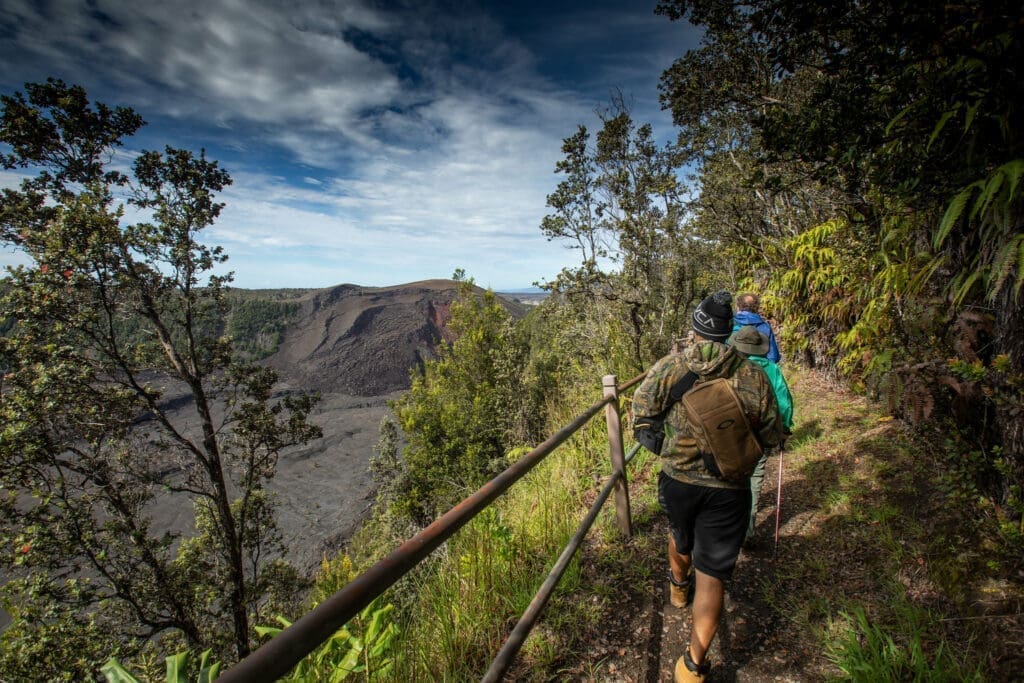 The Kīlauea Iki loop will "descend through a lush rainforest to the solidified lava lake on the floor of Kīlauea Iki crater. Peer into the vent that erupted to a height of 1900 feet during the eruption of 1959 located below Pu'u Pua'i cinder cone."8
More information on this hike can be found in this NPS Guide.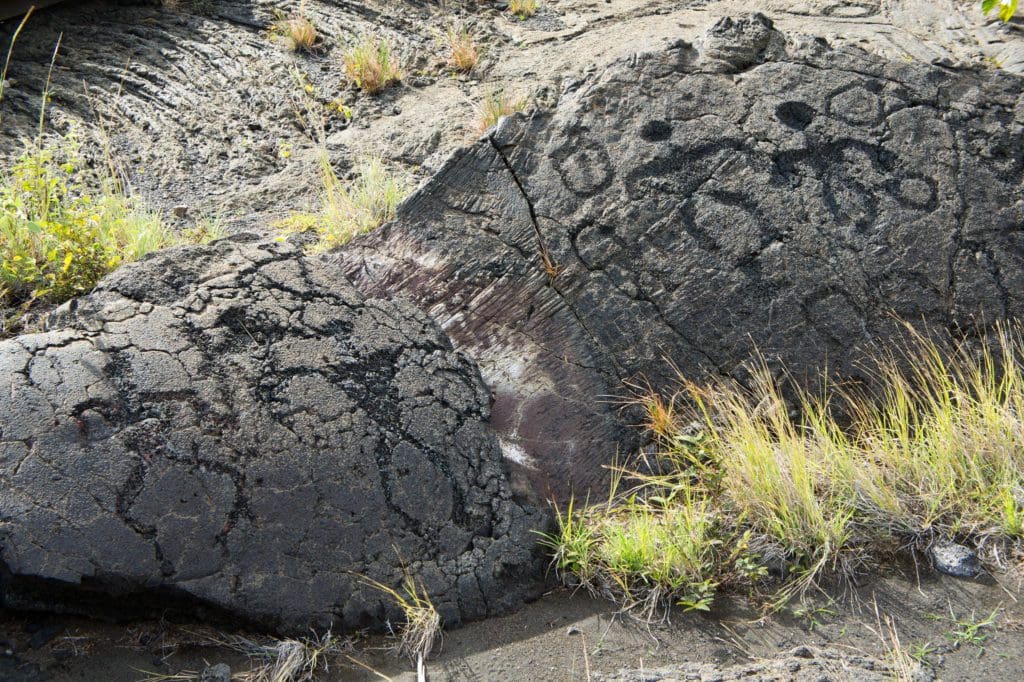 Our final suggestion for day hikes is the Pu'u Loa Petroglyphs Trail. This moderate 1.4 mile round-trip coastal hike "traverses a 500-550 year old lava field to one of Hawai`i's most extensive petroglyph fields. A site that has approximately 23,000 petroglyphs, many viewable at a boardwalk constructed for this purpose"9
"Walk in the footsteps of the kūpuna (elders) to Pu`u Loa (hill of long life), a sacred and awe-inspiring gallery of ki`i pohaku (images carved in stone). These simple etchings document the life and culture of the native Hawaiian people and spiritually, cradle the piko (umbilical cord) of their children. It brought with hopes of receiving the blessings of a long and prosperous life."9
More information on this hike can be found in this NPS Guide.
If you are looking for longer, more strenuous, backcountry hiking, check out this page from the National Park Service. Remember all backcountry hiking and camping requires a backcountry permit.
Hawai'i Volcanoes National Park also has a second unit, the Kahuku Unit. This area of the park is further down highway 11, located near the town of Kahuku. "A rolling, pastoral landscape on the slopes of the largest volcano on the planet"12. This area provides numerous hikes "on the volatile shoulders of Mauna Loa, the Kahuku Ranch was once one of the biggest cattle ranches in Hawaiʻi, producing beef and hides for more than 150 years. The apparent tranquility of ranch-life, however, was punctuated by volcanic violence that continues to transform the land to this day."12
More information on the Kahuku Unit can be found here.
---
Camping & Lodging
Our January 2021 – Park of the Month pick has numerous options for staying overnight within the park. Camping can be done at one of the below campgrounds. If you are not the camping type, the Volcano House might be a better option. And for the adventurous type, backcountry camping on a backpacking hike might be your thing too. Here is some general information about each of these.
Camping can be done at one of two developed campgrounds with in the park.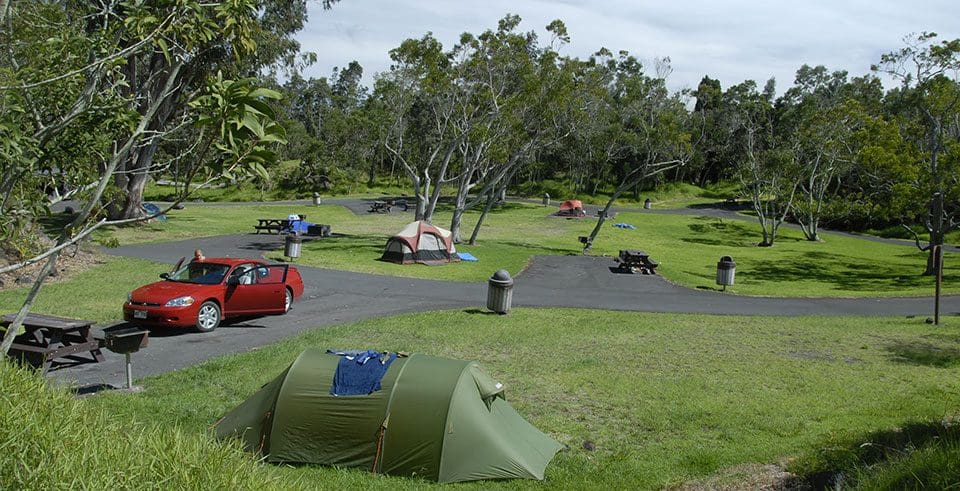 Nāmakanipaio Campground is located just 3 miles down the road from Volcano House. "Nestled amidst a fragrant eucalyptus grove, 4,000 feet above sea level, the historic Nāmakanipaio Campground offers a rustic, one-of-a-kind camping experience within Hawaii Volcanoes National Park."10
Nāmakanipaio Campground has 17 campsites and 10 rustic camper cabins available.
Nāmakanipaio Campground is run in conjunction with Volcano House.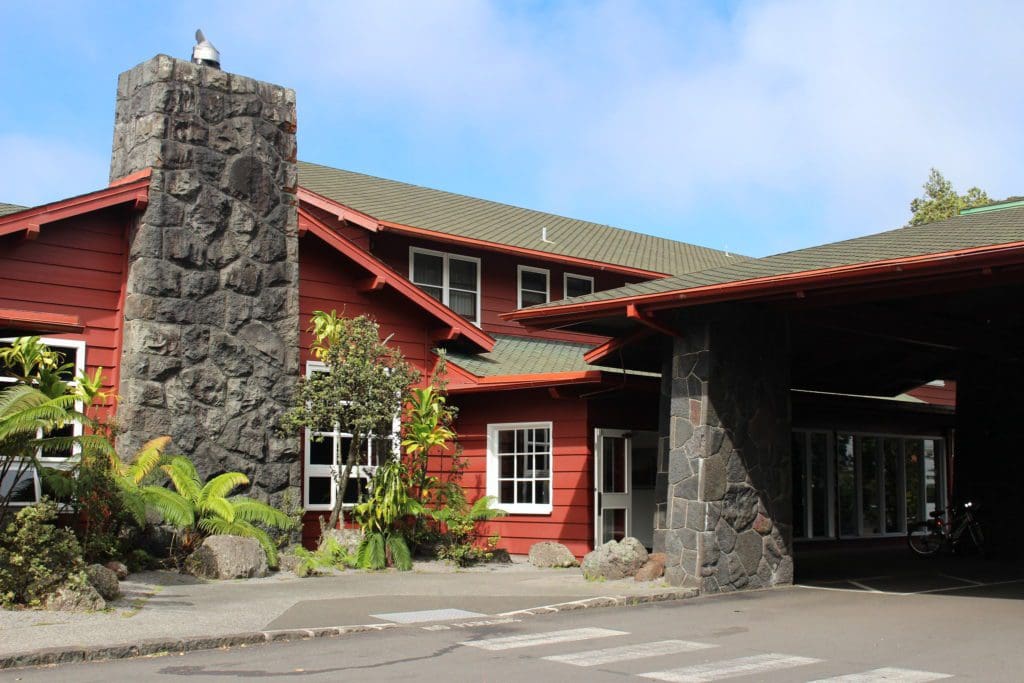 Volcano House "offers 33 historic guest rooms, a dining room, snack bar, lounge, and gift shop, along with cultural events and demonstrations."11
"Wake up to dramatic caldera vistas at the summit of Kīlauea, one of the world's most active volcanoes. Perched on the rim of Kīlauea caldera with a view toward Halema'uma'u crater, the historic Volcano House has long captured the imagination of visitors from all over the world with its rich cultural legacy, warm Hawaiian hospitality, and iconic location within Hawai'i Volcanoes National Park on Hawai'i Island. Drawing upon a storied history dating back to 1846, Volcano House is now ready for a new era."11
For more information about this amazingly beautiful lodge, the Nāmakanipaio Campground, and to book your stay, visit their website here.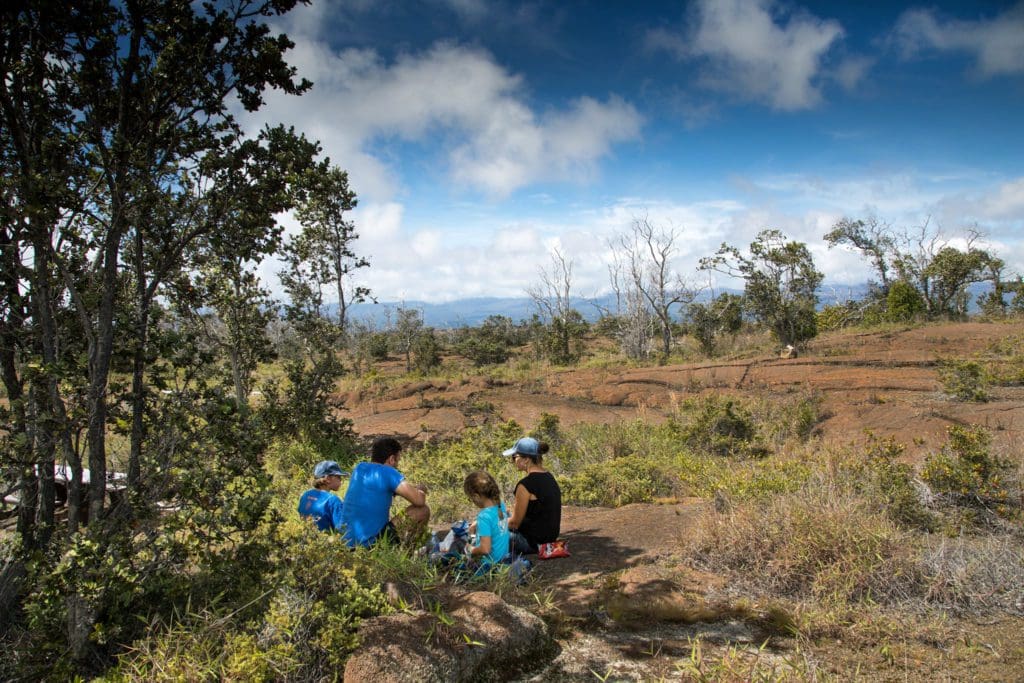 The second campground is the Kulanaokuaiki Campground. This campground has 9 designated sites and "is located about 5 miles down the Hilina Pali Road at 2,700′ elevation."
More information about Kulanaokuaiki Campground can be found here.
---
For more information about Hawai'i Volcanoes National Park, our January 2021 – Park of the Month, and to plan your trip, visit our park page, which includes specific information about the park status in regards to Covid-19. Be sure to check out the more detailed About the Park page with information from the park's Foundation Document.
Have you been to Hawai'i Volcanoes National Park or have a comment regarding our choice? Let us know below in the comments section.
---
Are you planning a trip to Hawai'i Volcanoes National Park?
Don't forget your National Geographic Trails Illustrated Map! Remember most National Parks have little to no cell service, making it difficult to just jump on your favorite mapping app to find out where the best trails are.
---
Help support Discover Our Parks by becoming a Patron for as little as $1 a month! Your support will help us continue to provide articles like this and add even more information about our parks to this site.
If you want to make a one-time donation, buy us a coffee!
'We got some of the above information from the following:
1: NPS – Hawai'i Volcanoes National Park Foundation Document
2: NPS – Hawai'i Volcanoes NP – Nāhuku (Thurston Lava Tube)
3: NPS – Hawai'i Volcanoes NP – Keanakākoʻi Crater
4: NPS – Hawai'i Volcanoes NP – Drive Chain of Craters Road
5: NPS – Hawai'i Volcanoes NP – Puʻu Loa Petroglyphs
6: NPS – Hawai'i Volcanoes NP – Day Hike- Maunaiki and Footprints Area
7: NPS – Hawai'i Volcanoes NP – Day Hike- Nāhuku (Thurston Lava Tube)
8: NPS – Hawai'i Volcanoes NP – Day Hike – Kīlauea Iki
9: NPS – Hawai'i Volcanoes NP – Day Hike – Pu'u Loa Petroglyphs
10: Volcano House – Cabins & Campsites
11: NPS – Hawai'i Volcanoes NP – Lodging
Check out these recent posts from Discover Our Parks: