Some links provided in this article are affiliate links. Meaning, at no additional cost to you, we'll earn a commission if you click one and make a purchase. An easy way to help support us if you're going to buy anyway!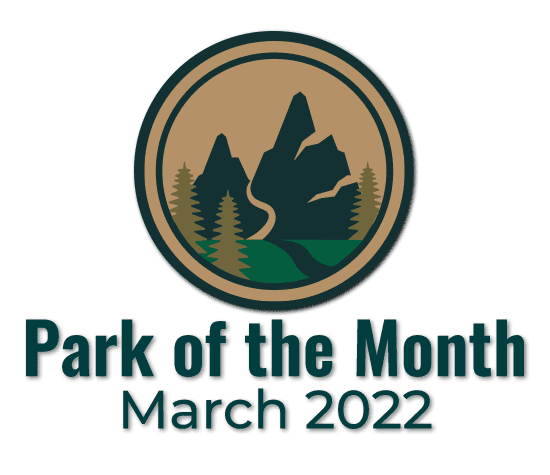 We're back from a little break and it's time for our "March 2022 – Park of the Month"! Each month, Discover Our Parks will choose a "Park of the Month" to showcase on our site, why we choose to feature it and all the best things to do and places to stay. We will utilize comments, time of the year and other factors when making our decisions. We might even ask you, our adventurers, which park you think should be next.
Are you apart of the conversations about our Park of the Month's? Join in on our Discord Server, it's free!
Without further delay… what park gets March 2022's "Park of the Month"???
Everglades National Park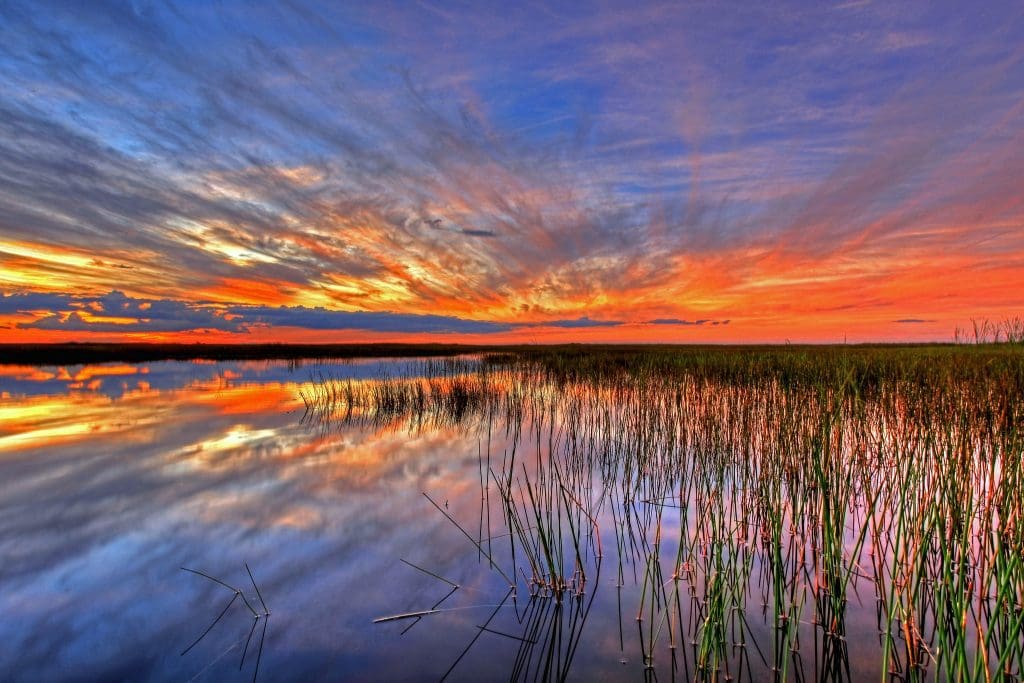 Water in south Florida once flowed freely from the Kissimmee River to Lake Okeechobee and southward over low-lying lands to the estuaries of Biscayne Bay, the Ten Thousand Islands, and Florida Bay. This shallow, slow-moving sheet of water covered almost 11,000 square miles, creating a mosaic of ponds, sloughs, sawgrass marshes, hardwood hammock, and forested uplands.15
For thousands of years this intricate system evolved into a finely balanced ecosystem that formed the biological infrastructure for the southern half of the state. However, to early colonial settlers and developers the Everglades were potential farm land and communities. By the early 1900s', the drainage process to transform wetland to land ready to be developed was underway. The results would be severely damaging to the ecosystem and the species it supported.15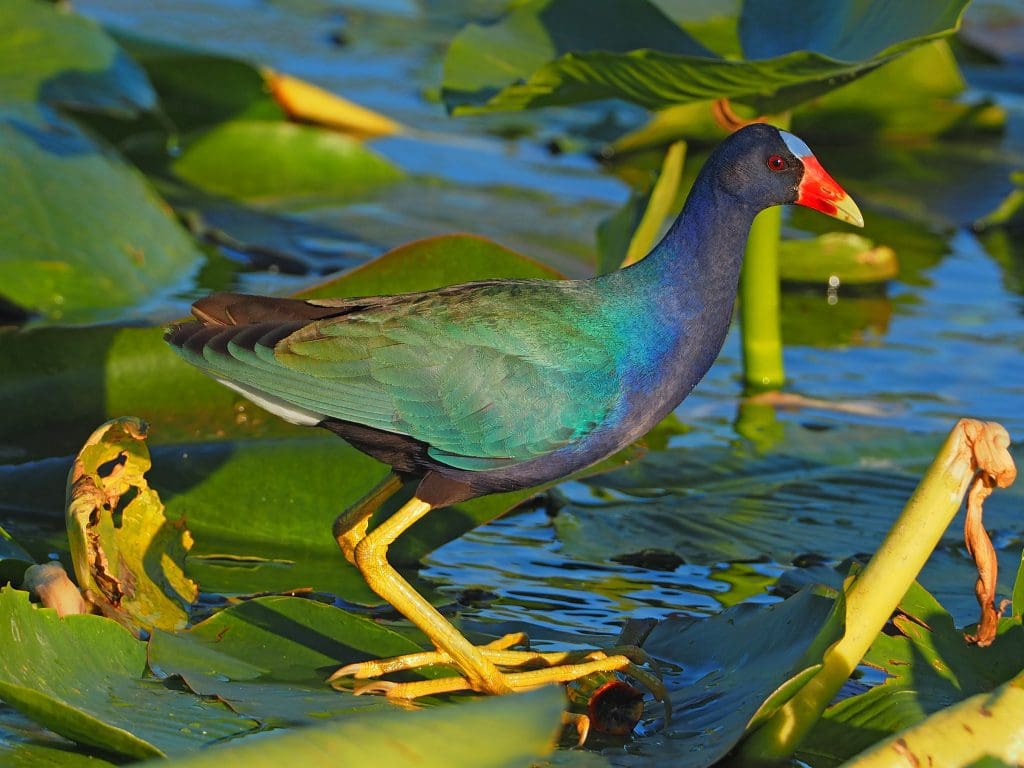 With the support of many early conservationists, scientists, and other advocates, Everglades National Park was established in 1947 to conserve the natural landscape and prevent further degradation of its land, plants, and animals. Although the captivation of the Everglades has mostly stemmed from its unique ecosystem, an alluring human story of the Everglades is deeply interwoven with its endless marshes, dense mangroves, towering palms, alligator holes, and tropical fauna.15
Various groups and people navigated through and wrestled with the watery landscape to make it home, and even to exploit its natural wonder at times. On these pages you can discover more about the Native Americans that existed and thrived; the agricultural development and drainage of the Everglades; the people and groups who advocated for the conservation of the area; the Everglades' role in United States War efforts; the preservation and restoration work that continues today; and much more.15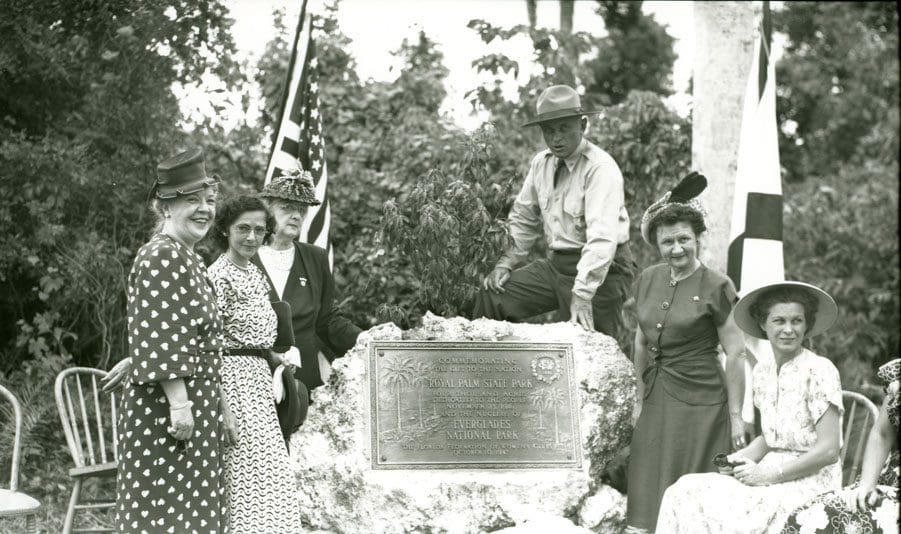 In Honor of Women's History Month
The Florida Federation of Women's Clubs, established in 1895, was an umbrella organization for the many state women's groups that existed. By 1922, membership of FFWC reached 12,000 women. The women's clubs organized around issues such as prohibition, education, voting rights, rights for the ill, and conservation. The work of these women led to numerous local and statewide reforms and laws.16
May Mann Jennings, president of the Florida Federation of Women's Clubs and wife of Florida governor W. S. Jennings, led conservation efforts in south Florida. Her work led to the establishment of Royal Palm National Park, which was managed by the FFWC until 1947 when it was incorporated by Everglades National Park. Well known for her oratory skills and leadership on a range of issues, May Mann Jennings became one of Florida's most celebrated activists.16
Why "March 2022 – Park of the Month"?
Everglades National Park is the largest subtropical wilderness in the United States and is one of the most diverse ecosystems in the world. It is home to an estimated 39 threatened species, 300 fish species, 50 reptilian species, 360 avian species, and 40 mammalian species.
Many visitors to this ecosystem are amazed by the abundance of life, history and culture that there is to explore. Visiting our March 2022 – Park of the Month will provide you with unique experiences that you will remember for a lifetime.
Everglades National Park is the third largest park in the lower 48 states, covering 2,400 square miles! There is no shortage of activities for individuals, groups, or families to enjoy outdoors. The diverse habitats allow for enjoyable activities ranging from hiking, canoeing, kayaking, biking, fresh and saltwater fishing, and camping in the ultimate wilderness.2
Below you will find our suggestions and tips for visiting this amazing park, including:
Some of the below locations or activities are currently not available due to COVID-19 restrictions. Visit our Everglades National Park page for more information on the status of the park in the COVID-19 Information bar.
---
The Scenic Drives
Not known for it's scenic drives or enormous vistas, like the ones found in the national parks of the west, Everglades National Park, our March 2022 – Park of the Month, has one scenic drive that takes you on the northern side of the park. Known as the Tamiami Trail, US Highway 41, stretches 275 miles from Florida State Road 60 in Tampa to US 1 in Miami.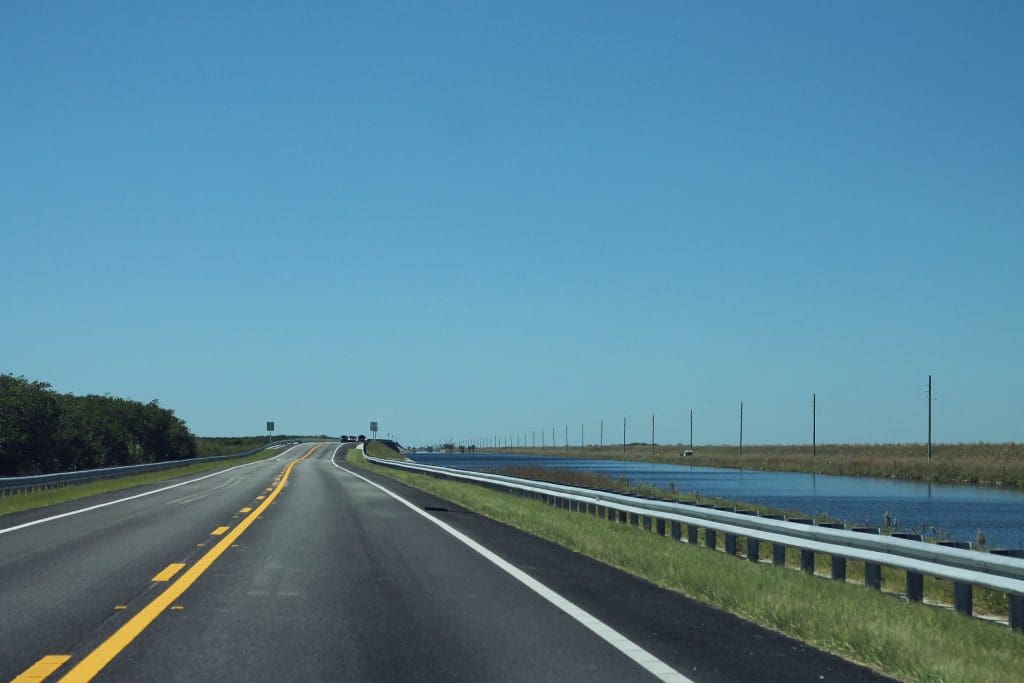 Not all of this scenic drive is in Everglades National Park, but it is a great opportunity to see the diverse ecosystem of southern Florida. Only about 20 miles fall along the northern border of the park, but it also traverses through Big Cypress National Preserve, which holds it's own beautiful wilderness to explore.
Depending on your park plans and where you are starting your adventure, be it Miami or Tampa/Naples, this trail can assist in getting to the 3 entrance stations for the park or to one of the visitor centers. The Shark Valley Entrance Station is in the middle of Tamiami Trail on the north side and is a great stop on your drive to explore several trails and wildlife viewing spots.
If you are driving to the East side of the park, you will head south in Miami towards the Ernest F. Coe Visitor Center, located on the main park road on the east side of the park.
If you are headed to the West side of the park, to maybe start a Gulf Coast paddling adventure, you will find the Gulf Coast Visitor Center and Gulf Coast Marina are great starting points for your trip after the scenic drive.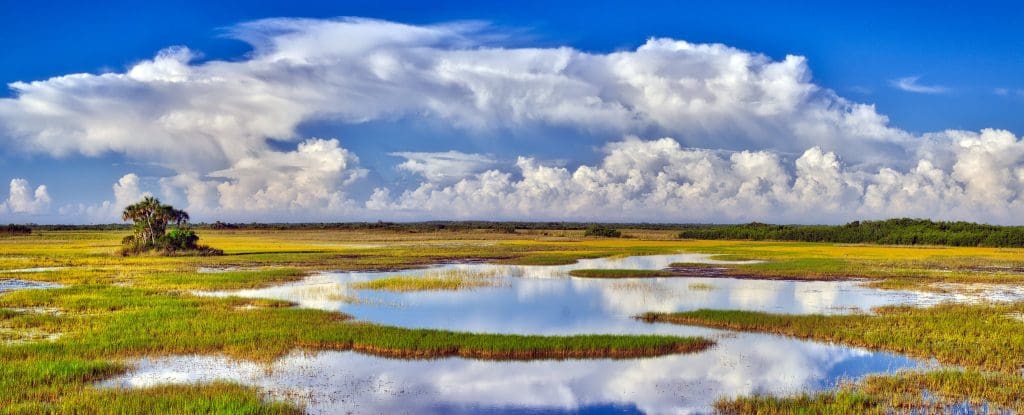 As a note for those enjoying this scenic drive, make sure to take County Road 94 (Loop Road) through Big Cypress National Preserve, you won't regret it!
Loop Road is 24 miles long and is south of the current path of Tamiami Trail. It spans three counties: Collier to the west, Monroe in the center, and Miami-Dade to the east. Visitors will pass through mostly cypress swamp, which are flooded forests in the summer wet season (May through October), but mostly dry in the winter, except for the areas of lowest elevation – the cypress strands.1
For more information on the Tamiami Trail Scenic Drive and the path through Big Cypress National Preserve, visit the NPS page about it here from Big Cypress National Preserve.
---
Boating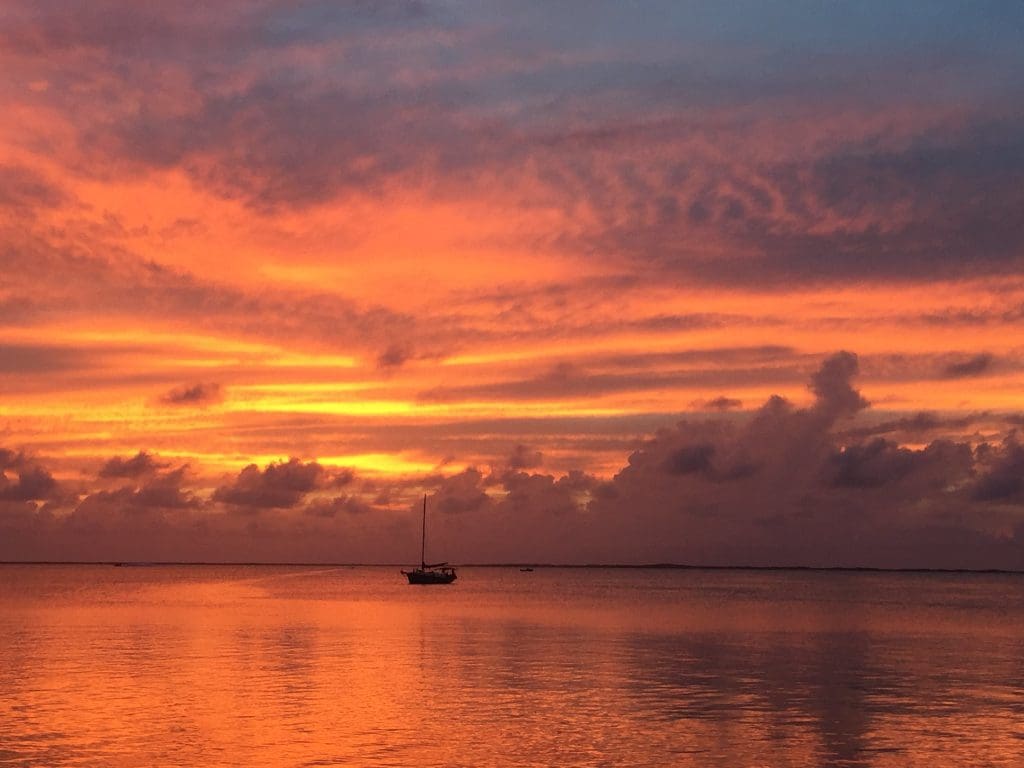 Everglades National Park offers multiple opportunities for boating. From deep sea fishing in the Gulf to inland adventures, our March 2022 has a multitude of boating opportunities. Most of the park is only accessible by water making boating a popular way to experience the Everglades.2
Everglades National Park consists of over 800 square miles of marine waters from the Ten Thousand Islands to Florida Bay.3 Visitors can explore Florida Bay, Whitewater Bay, and the Ten Thousand Islands area all by boat. Each area has its own unique characteristics and habitats to explore.
Boating in the waters of the Everglades is a task for the skilled. Treacherous passes cut through long banks of mud and seagrass, separating the basins of the shallow coast in Florida Bay. Other areas, especially in the Ten Thousand Islands, have many oyster reefs and sandbars. Safely exploring this region, while protecting the sensitive underwater habitats, requires the ability to "read the water".
Shallow areas are not always marked, especially in the area between Flamingo and Everglades City. Knowing the draft (depth) and limits of your boat is critical, as is the ability to read and utilize nautical charts.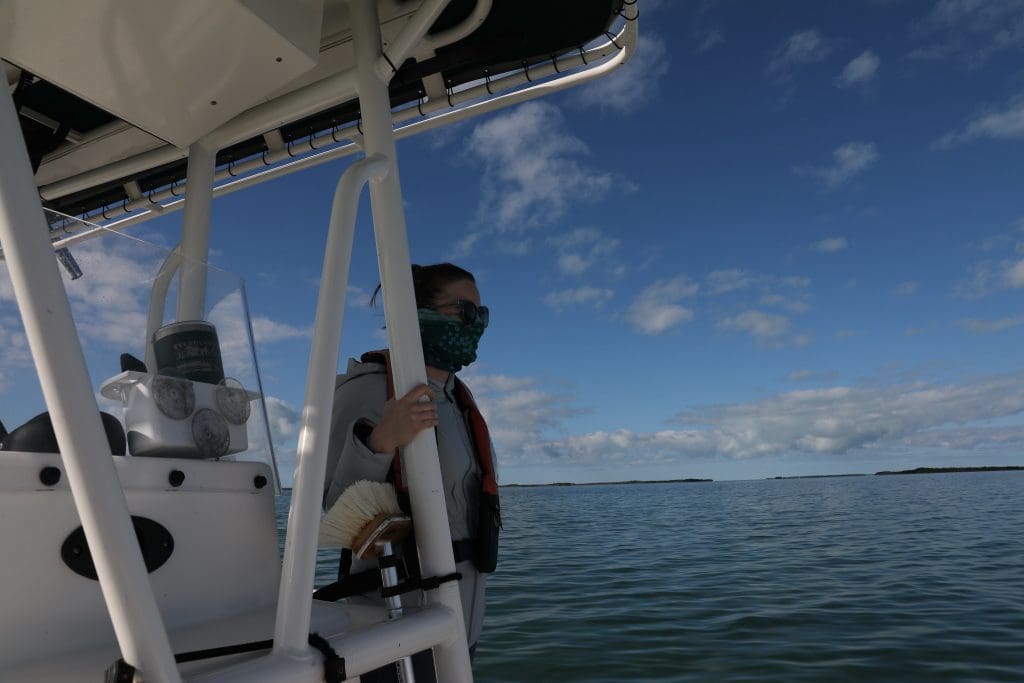 The park has rules and regulations set in place for boating within the park. Being prepared reduces the risk of getting lost, running aground, paying towing fees, and damaging boats and park resources.4 Be sure to read them all and understand any risks. The park also requires an entry pass for all vessels within or entering the park.
Learn more about the boating regulations by visiting the NPS page about it here.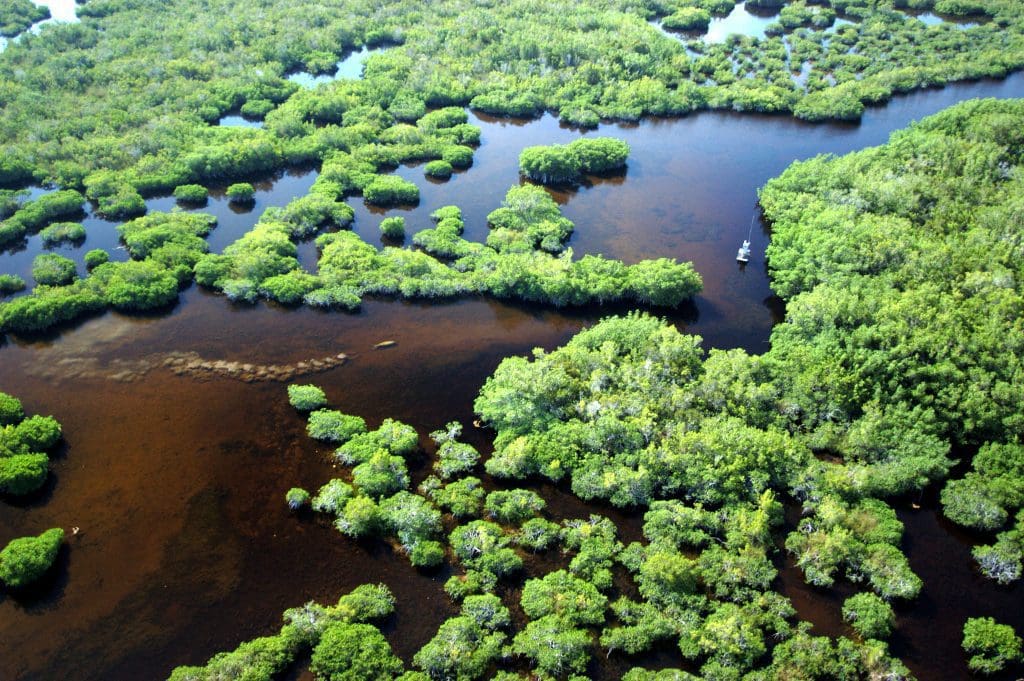 Everglades National Park also has several Special Zones that are restricted to boating or have limitations in order to protect seagrass wilderness, manatees, and crocodiles. To better protect seagrass and other bottom dwelling lifeforms in Florida Bay from propeller scarring, the bottom of Florida Bay is legally designated as submerged wilderness as part of the Marjory Stoneman Douglas Wilderness and is thereby protected by the Wilderness Act of 1964.5
Learn more about the protected areas and special zones by visiting the NPS page about it here.
You can also read more about boating within the park with this interactive brochure: Everglades National Park Boater Guide.
As a note, all boaters must complete a mandatory boater education program. This course and accompanying certificate is now mandatory for nearly everyone operating a powerboat within the marine waters of the park. Upon successful completion of the course and test, boaters can print out the certificate to carry with them while operating a vessel in the park.11
More information on the NPS Boater Education Program can be found here.
Planning a Southern Florida trip?
Check out the best places to visit, see and do in the Florida Keys, Miami and the Everglades by grabbing a copy of
Moon Florida Keys: With Miami & the Everglades (Travel Guide):
---
Kayaking & Canoeing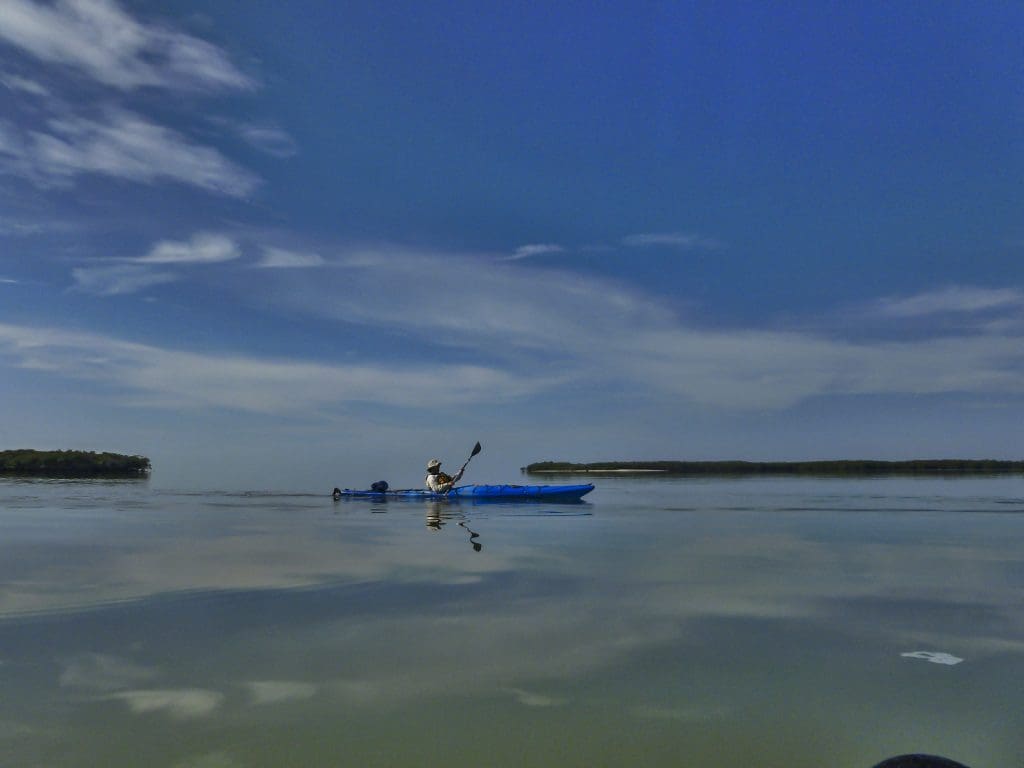 Gliding silently in a canoe or kayak gives you a wonderful vantage point on the wildlife and vegetation of the 'glades. You might even get an up close view of a 'gator! The Wilderness Waterway is 99 miles long and takes approximately 7-10 days by canoe or kayak, but many well-marked shorter trails exist.2
Everglades National Park offers many paddling opportunities to explore the natural beauty of this area through freshwater marsh, mangrove forests, the 10,000 Islands, and the open waters of Florida Bay. Canoe and kayak trips range from a few hours to several days depending on length and complexity of the trail.6
If you are looking for a canoe or kayak adventure, our March 2022 – Park of the Month is the perfect place. Whether your skills are at the beginner level or the advanced level, this park has plenty pf amazing opportunities to see nature from the water.6
As a note, due to all the insects, it's typically best to do a canoe or kayak trip between November and early April, unless you're into all the insects! ?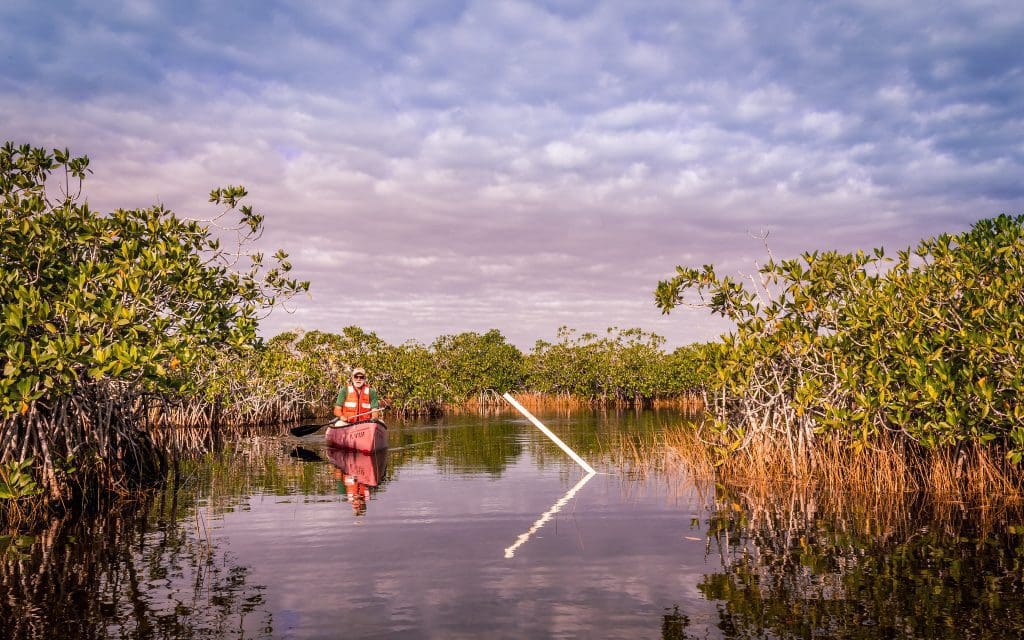 Our first suggested trip, Nine-Mile Pond, is a great day trip for beginners. This paddle trail is a 5 mile loop, or a 3.5 mile loop if you choose the shortcut, located in a vast shallow march with sawgrass and is full of beautiful mangrove trees that sometimes provide an amazing canopy for the trail.
This scenic trail passes through shallow grassy marsh with scattered mangrove islands. Watch for alligators, wading birds, and an occasional endangered snail kite. The trail is marked with numbered white poles. A more detailed trail map is also available at visitor centers. Trail may be impassable due to low water levels near the end of the dry season, ask a Park Ranger for current conditions.6
If you are interested in this trail, check out the NPS Trail Guide here.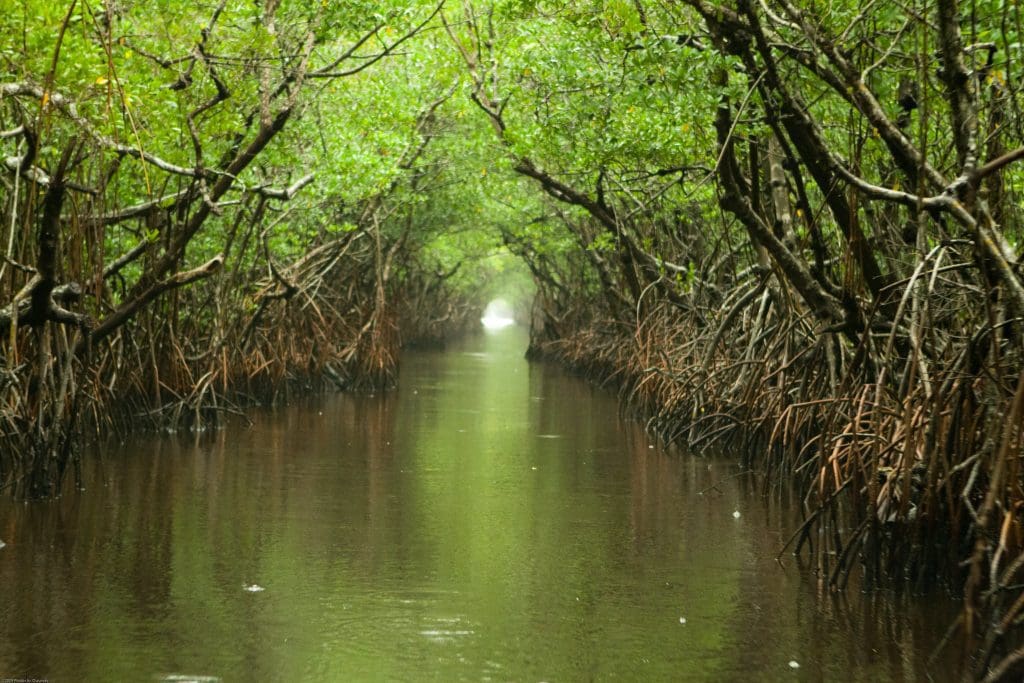 Our second suggestion is for the advanced paddlers out there. The Turner River paddle trail can be done in two days and provides the best way to see the true heart of Everglades National Park. Turner River is a Wilderness Waterway trail and trip. This trail trip will require overnight camping in the park wilderness, so you will need to obtain a wilderness permit before you embark on your adventure.
The trip begins off of US 41 in Big Cypress National Preserve. The river winds its way through a variety of habitats, from the fresh water of the cypress swamp, through sawgrass prairies, to saltwater mangrove forests. Along the way paddlers will encounter a series of challenging mangrove tunnels, quiet, sheltered lakes, and the flow of a river influenced more by tides than gravity. The trip terminates in the salt water of Chokoloskee Bay.7
When you get about halfway into this trip, you will have the option of continuing straight, where Chokoloskee Island is 2.4 miles straight ahead or you can choose the longer route, take Left Hand Turner River and go down Halfway Creek to the ranger station.
We highly suggest the longer route because you will get more nature and experience even more wilderness that this park has to offer.
You could make this a day trip and just do US 41 to Chokoloskee, which is 4 1/2 to 5 1/2 hours.
If you choose to head to the Ranger Station and make it a multi day trip, the paddling times via Halfway Creek (our suggested route) is 6 to 7 hours and via the causeway is 5 1/2 to 6 1/2 hours.
If you are interested in this trail, check out the NPS Trail Guide here.
---
You can also find maps for the various paddle trails and trail guides on Discover Our Parks' Everglades National Park – Maps and Documents page here.
For more information on Wilderness Paddling, check out the NPS Wilderness Trip Planner here.
For more detailed information, the best paddling and boating trips, we totally recommend grabbing a copy of
Paddling Everglades National Park: A Guide To The Best Paddling Adventures (Paddling Series):
---
Hiking
Our March 2022 – Park of the Month has some amazing hiking trails. Everglades National Park provides hiking from easy to moderate to difficult. You choose your type of adventure and the park has multiple options.
Below are our suggestions for the best hiking trails, as well as links to find even more!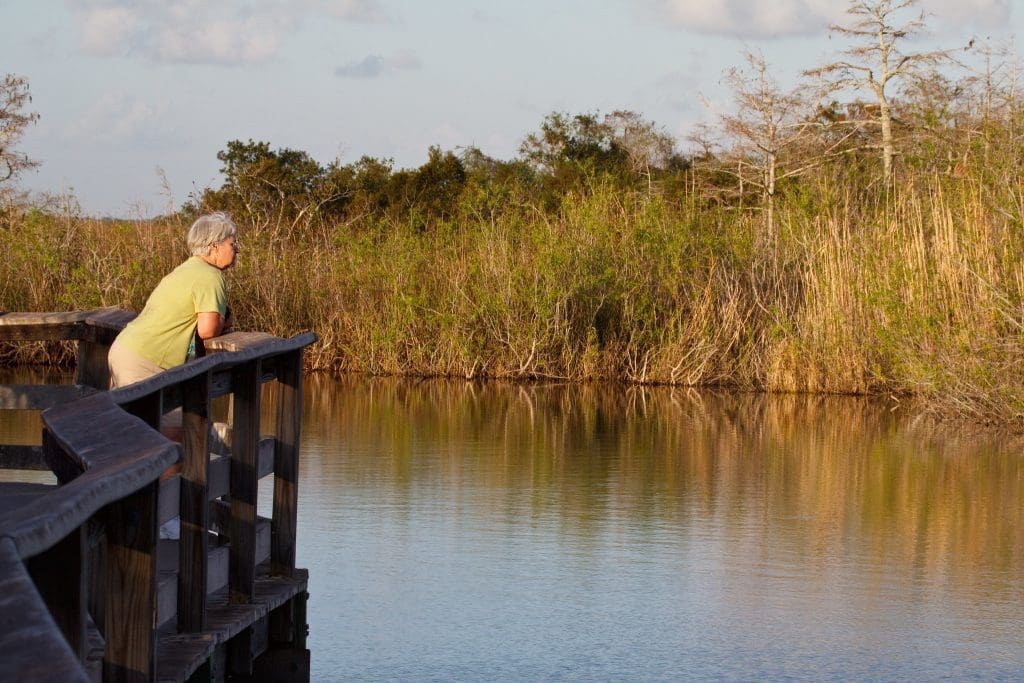 Our first hiking trail suggestion is Anhinga Trail. This easy, 0.8 mile round trip trail winds through a sawgrass marsh, where you may see alligators, turtles, anhingas, herons, egrets, and many other birds, especially during the winter. This is one the most popular trails in the park because of its abundance of wildlife.7
The Anhinga Trail is one of the premiere wetland trails in the National Park Service. It winds through Taylor Slough and the sawgrass prairie. It offers excellent nature viewing experiences year round, but especially during the winter or the dry season. During the dry season, the alligators and the anhingas are breeding and a shrinking Taylor Slough concentrates the wildlife. You can explore this trail on your own or with a ranger-led program.8
For more information about this hike, check out the NPS page here.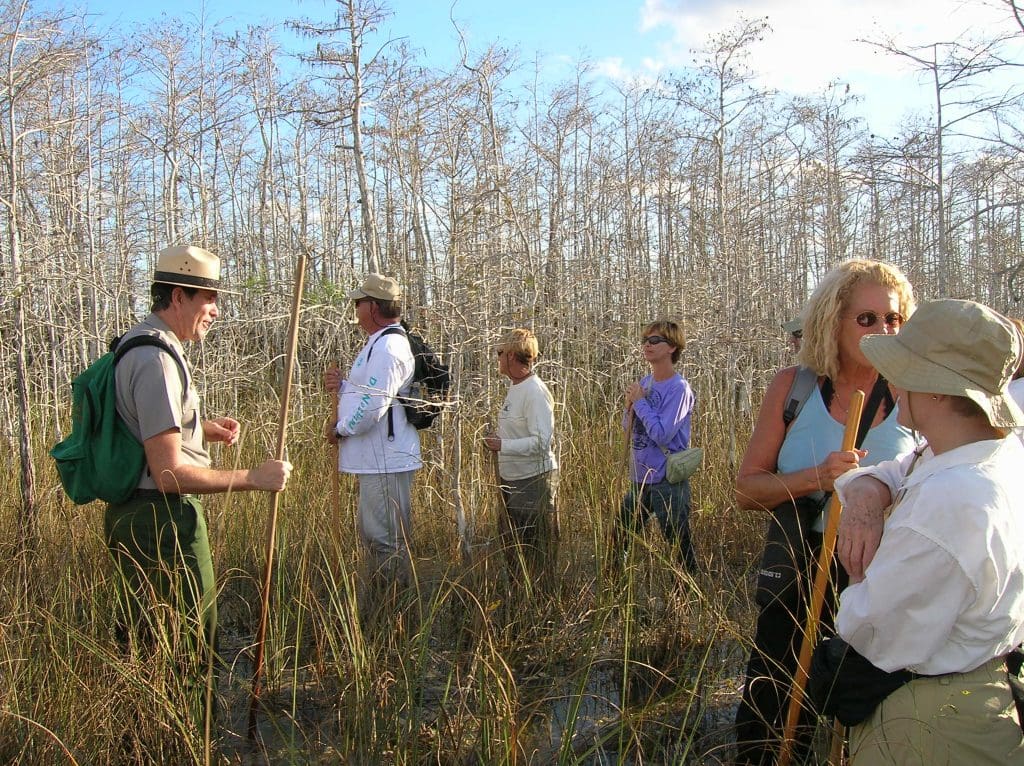 Our next suggested hike, while shorter, is considered moderate and you might need to make a reservation to get the full experience. This hike is known as Slough Slog or the Double Dome Wet Walk. This hike is a 0.5 mile loop, but note you will get wet and it will take time!
With only the sound of the wind and your footsteps, explore a side of the Everglades that most people never see by getting your feet wet in an off-trail hike. Slough slogging gives you a hands-on view of the River of Grass and reveals the hidden world of a cypress dome. Join a Ranger on one of our slough slogs for a guided walk into this fascinating environment.9
This program is limited to 12 participants. To sign up or for additional information, visit the Ernest F. Coe Visitor Center or call 305-242-7700. Participants must be 12 years of age or older.9
For more information about this hike, check out the NPS page here.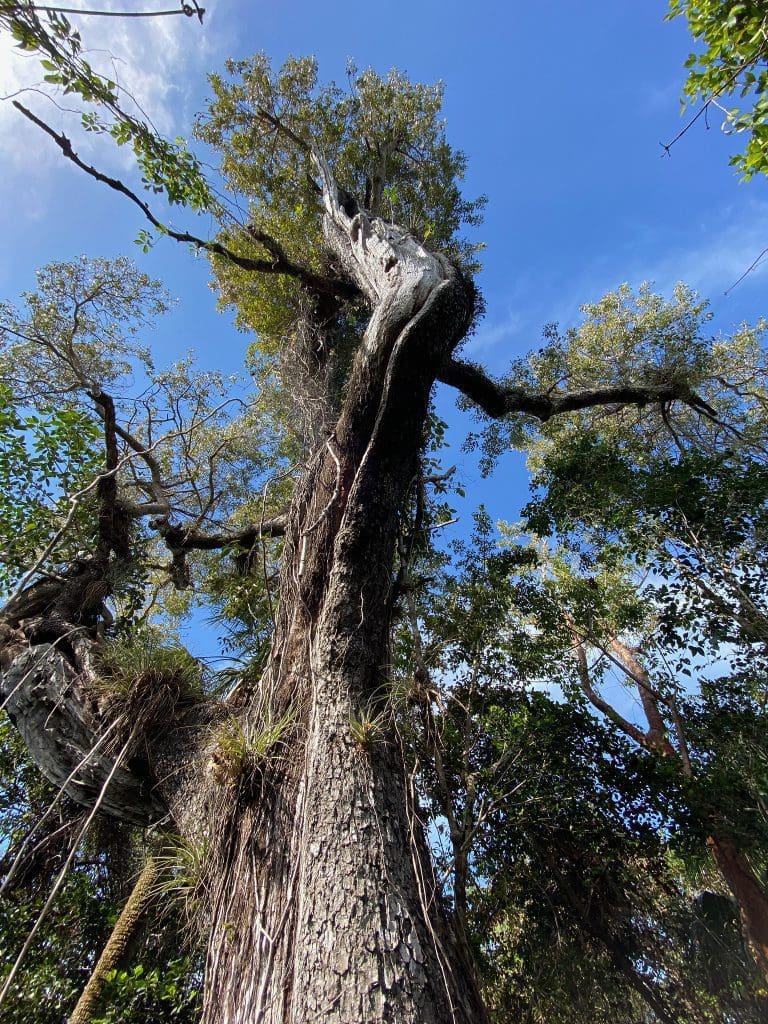 The last suggested hike is another easy hike, the Mahogany Hammock Trail, is a 0.5 mile round trip, semi-loop. This self-guiding boardwalk trail meanders through a dense, jungle-like hardwood "hammock." Lush vegetation includes gumbo-limbo trees, air plants, and the largest living mahogany tree (Swietenia mahogani) in the United States.10
For more information about this hike, check out the NPS page here.
Don't forget the best trail map of Everglades National Park!
Remember most National Parks have little to no cell service, making it difficult to just jump on your favorite mapping app to find out where the best trails are.
For more amazing hiking (and even biking), we totally recommend grabbing a copy of
Exploring Everglades National Park and the Surrounding Area: A Guide to Hiking, Biking, Paddling, and Viewing Wildlife in the Region (Exploring Series):
Be sure to check out the NPS Hiking at Everglades National Park page here for even more amazing hikes!
---
Camping & Lodging
Our March 2022 – Park of the Month pick has numerous options for staying overnight within the park. From campgrounds, houseboats, backcountry trips and a new lodge, this park is made for an adventure no matter your style of visiting!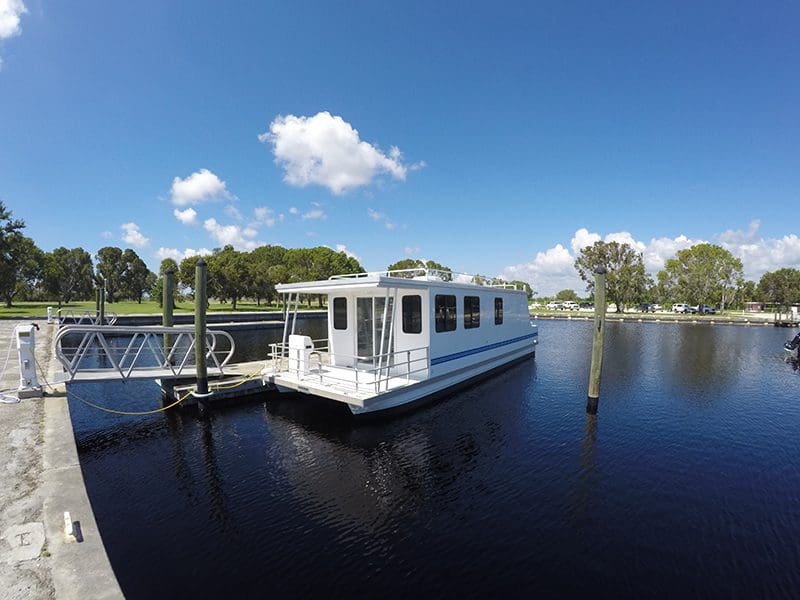 Looking for a little luxury while exploring the park? Check out the houseboat rentals from Flamingo Adventures. The boats accommodate up to 6 guests and include a living area and a kitchen. The houseboats are limited to the boundaries of Whitewater Bay and are not allowed to travel out of Oyster Bay into the Gulf of Mexico.
This unique experience is great for small families and makes waking up in the wilderness of the park a whole new adventure.
Remember that if you are boating within the park, you must obtain a Everglades Boater Education Card. Learn more in the boating section above.
For more information on Flamingo Adventure Houseboats, check it out here.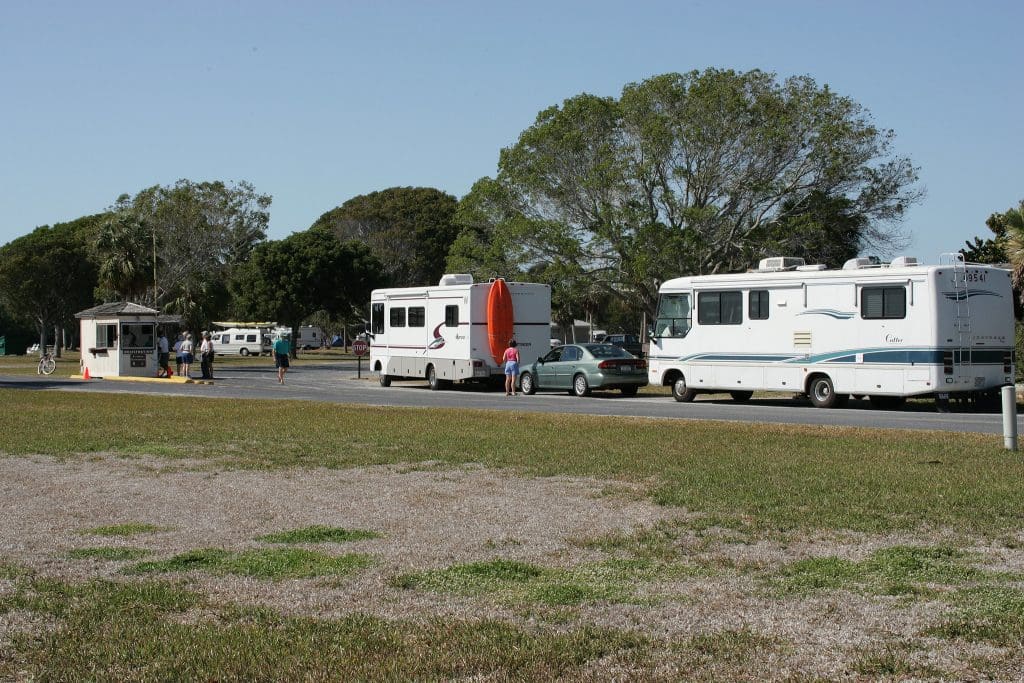 Everglades National Park has 2 drive-up campgrounds, Flamingo Campground and Long Pine Key Campground.
The campgrounds at Flamingo offer an unforgettable year-round experience in Everglades National Park. Campgrounds include bathhouses, dump stations, picnic tables, grills and an amphitheater for winter programs.12 Flamingo has several hiking trails and canoe trails, and opportunities for saltwater fishing are plentiful.13
Non-electric campsite fees per night:
$30 Mon-Thurs
$35 Fri-Sun
$55 for group sites
Electric campsite fees per night:
For more information on Flamingo Campground, check out the Discover Our Parks page about it here and the NPS page here.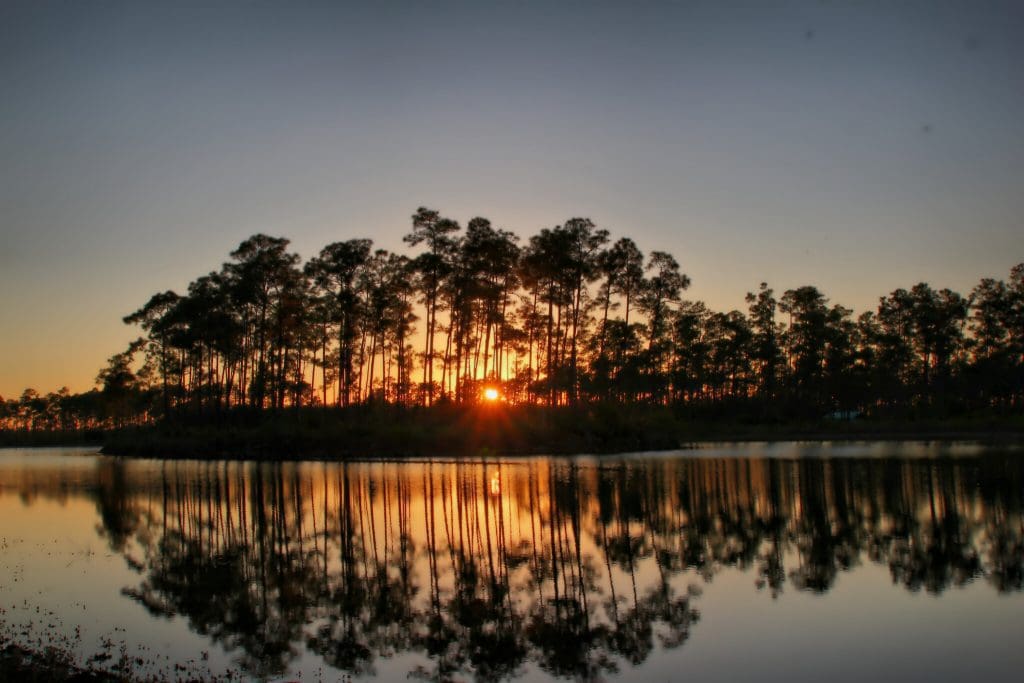 Only a few miles from the Ernest F. Coe Visitor Center, adjacent to the Long Pine Key Trail and encompassing a pleasant fishing pond, the Long Pine Key Campground provides all the essentials required for getting yourself in tune with nature. Amenities include bath houses, a dump station and a potable water filling station.12
Campsite fees per night:
$30 Mon-Thurs
$35 Fri-Sun
$55 for group sites
Long Pine Key campground is open November 1st through April 30th.
For more information on Long Pine Key Campground, check out the Discover Our Parks page about it here and the NPS page here.

Coming soon, the Flamingo Lodge will have 24 rooms, each with a kitchenette and a balcony with a view of Florida Bay.17
Room options will be 2-bedroom suites (with sleeper sofa), 1-bedroom suites (with sleeper sofa) and studios.17
For more information on Flamingo Lodge, check it out here.

If you are looking for an adventure filled, multi day trip, a wilderness trip might be your best option to explore the park!
Everglades National Park has a dense backcountry. With multiple waterway trails and numerous designated campgrounds, this park is perfect for those looking to get away from the crowds and truly take an adventure.
Safely exploring a wilderness by water requires careful preparation and planning. Plan at least two routes before arriving at the park in case your first choice is already filled. If you require assistance planning your trip, call or stop by the Gulf Coast (Everglades City) or Flamingo Visitor Centers.14
Because of the heat, severe storms, and intolerable numbers of mosquitoes, summer (June – October) is not the best time of year for a wilderness trip. The winter months (December – April) tend to be more pleasant.14
Nautical charts are necessary for finding your way in the wilderness and are useful in planning your trip. Some sites are not indicated with a tent symbol on nautical charts. Be sure to consult visitor center maps before departure.14
The 99-mile Wilderness Waterway attracts interest because it connects Flamingo and Everglades City. Most paddlers allow at least eight days to complete the trip. This route is recommended for experienced paddlers only. Arrange in advance for a vehicle shuttle. There are many areas of very shallow water that may be encountered along the Wilderness Waterway.14
Powerboats over 18′ long may have to detour around Alligator and Plate Creeks. The "Nightmare" and Broad Creek are passable only to paddlers at high tide. To prevent prop dredging, which results in increased turbidity and the destruction of sub-merged natural features, boats with drafts of two feet or more, including the propeller, should not use the waterway.14
If you are planning a wilderness trip, remember wilderness camping is only permitted in designated areas. Make sure to reserve a Wilderness Camping Permit through Recreation.gov if you plan to do this and always share your plans with others, incase of an emergency.
For more information on wilderness paddling, hiking and camping, check out the NPS Wilderness Trip Planner page here.
For a detailed map and information brochures, check out Discover Our Parks' Everglades National Park – Maps & Docs page here.
Are you looking for a true adventure and want to combine floating with backcountry camping in Grand Teton National Park? If so, check out this great guide to help you find the best spots on Jackson and Leigh Lakes:
Paddling the Everglades Wilderness Waterway: Your All-in-One Guide to Florida's 99-Mile Treasure plus 17 Day and Overnight Trips (Menasha Ridge Press Guide Books)
---
For more information about Everglades National Park, our March 2022 – Park of the Month, and to plan your trip, visit our park page, which includes specific information about the park status in regards to COVID-19. Be sure to check out the more detailed About the Park page with great information from the park.
Remember when visiting any National Park, whether camping, hiking or just visiting a visitors center, always do your part and follow the Leave No Trace principles to help protect the park. Learn more here!
Have you been to Everglades National Park or have a comment regarding our choice? Let us know below in the comments section.
---
Are you planning a trip to Everglades National Park?
Don't forget your National Geographic Trails Illustrated Map! Remember most National Parks have little to no cell service, making it difficult to just jump on your favorite mapping app to find out where the best trails are.
---
Help support Discover Our Parks by becoming a Patron for as little as $1 a month! Your support will help us continue to provide articles like this and add even more information about our parks to this site.
If you want to make a one-time donation, buy us a coffee!
'We got some of the above information from the following:
1: NPS – Big Cypress: A Look Inside – Loop Road Scenic Drive
2: NPS – Everglades NP – Things To Do
3: NPS – Everglades NP – Maps and Navigation
4: NPS – Everglades NP – Boater Rules and Regulations
5: NPS – Everglades NP – Access and Resource Protection
6: NPS – Everglades NP – Canoe and Kayak Trails
7: NPS – Everglades NP – Anhinga Trail
8: NPS – Everglades NP – Pine Island Trails
9: NPS – Everglades NP – Slough Slog
10: NPS – Everglades NP – Mahogany Hammock Trail
11: NPS – Everglades NP – Boater Education Program
12: Flamingo Adventures – Camping
13: NPS – Everglades NP – Camping
14: NPS – Everglades NP – Wilderness Trip Planner
15: NPS – Everglades NP – History & Culture
16: NPS – Everglades NP – People
17: Flamingo Adventures – Flamingo Lodge & Restaurant
Check out these recent posts from Discover Our Parks: