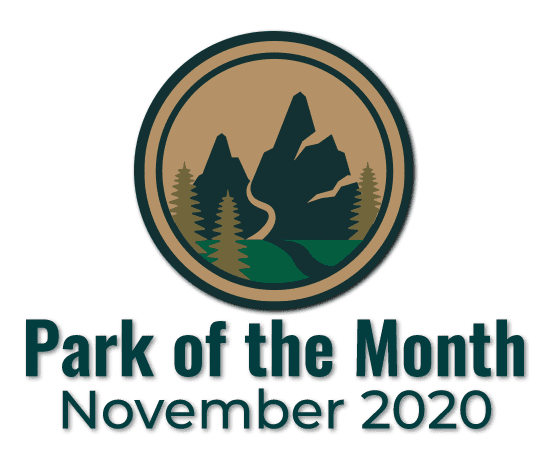 It's time for our "November 2020 – Park of the Month"! Each month, Discover Our Parks will choose a "Park of the Month" to showcase on our site and why we choose to feature it. We will utilize comments, time of the year and other factors when making our decisions. We might even ask you, our adventurers which park you think should be next.
Without further delay… what park gets November 2020's "Park of the Month"???
Shenandoah National Park
Established on December 26, 1935 and just 75 miles from the bustle of Washington, D.C., Shenandoah National Park is a land bursting with cascading waterfalls, spectacular vistas, fields of wildflowers, and quiet wooded hollows. With over 200,000 acres of protected lands that are haven to deer, songbirds, and black bear, there's so much to explore.1 Shenandoah National Park is also an amazing escape for the many suburbs and towns/cities in the Virginia foothills.
The park straddles habitats of both the northern and southern Appalachians and supports a rich assemblage of approximately 2,100 species of flora and fauna. Rock outcrops punctuate this otherwise forested habitat. Skyline Drive, a world-famous park tour road, traverses the length of the park for 105 miles and provides opportunities for outstanding views of the Shenandoah Valley and the Piedmont from the Drive's numerous overlooks.2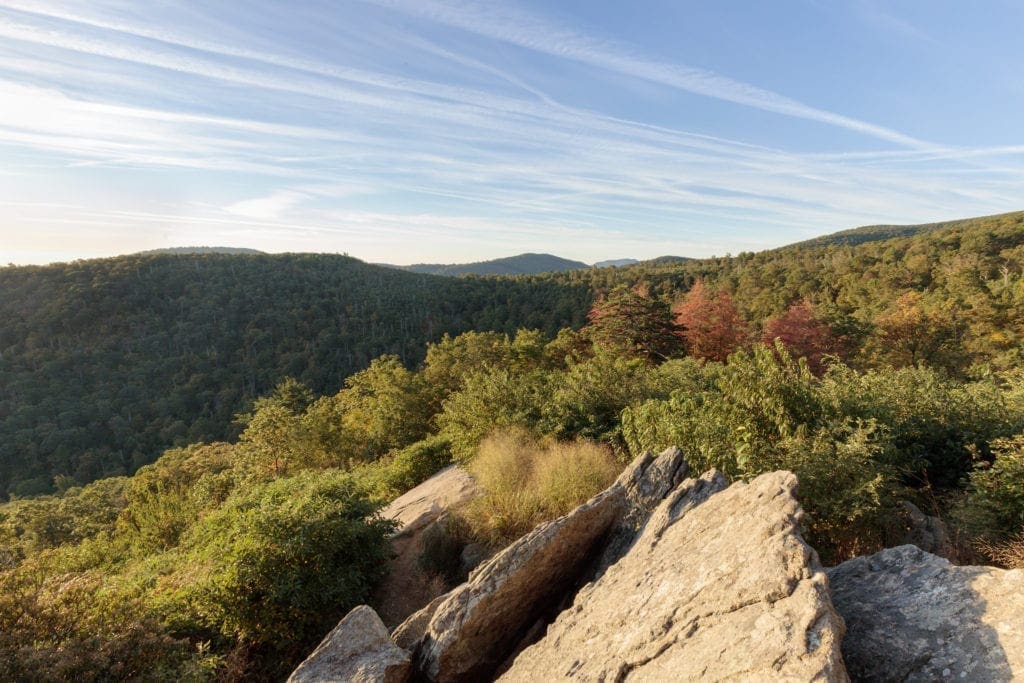 Shenandoah National Park has a rich history of civilization. The park was first 1,088 privately owned tracts of land until the Commonwealth of Virginia purchased them and later donated them to the nation for preservation and conservation by the National Park Service. This was the first time such a massive amount of privately owned, populated land, and heavily used by civilization, had been converted to an amazing National Park.
Before becoming a park, the land was heavily farmed and logged. Over the years, the old forests have returned and is an outstanding example of nature's regenerative ability and a testament to the benefits of America's conservation ethic.2
Why "November 2020 – Park of the Month"?
November sees a wind-down of fall colors within Shenandoah National Park as the wildlife and natural beauty begin to prep for winter. November also happens to be the last month for camping within the park and easy access for the multiple lodges, which also close down for the winter. That said, the park remains open year round and offers amazing ways to continue to visit this beautiful park in the winter months.
Shenandoah National Park provides visitors with the opportunity to explore mountain peaks, hidden hollows, cascading streams, accessible wilderness, and stunning natural beauty… The park's outstanding scenery, historic lodges, and broad range of world-class recreation opportunities, including more than 500 miles of hiking trails and the iconic Skyline Drive, provide visitors with a "western park experience" in the east.2
Speaking of Fall Colors, here's Shenandoah National Parks' Fall 2020 Updates: Week 7!
---
The Scenic Drive
Skyline Drive is one of the most scenic and beautiful drives within the country. Skyline Drive runs 105 miles north and south along the crest of the Blue Ridge Mountains in Shenandoah National Park and is the only public road through the Park. It takes about three hours to travel the entire length of the Park on a clear day. It has spectacular views of the numerous valleys and mountains on both the east and west side of the park.
As you travel along Skyline Drive you will notice mileposts on the west side of the road (right side if you are traveling south, left if you are heading north). These posts help you find your way through the Park and help you locate areas of interest. The miles begin at 0 in Front Royal and continue to 105 at the southern end of the Park. The largest developed area, Big Meadows, is near the center of the Park, at mile 51. There are nearly 70 overlooks that offer stunning views of the Shenandoah Valley to the west or the rolling Piedmont to the east.3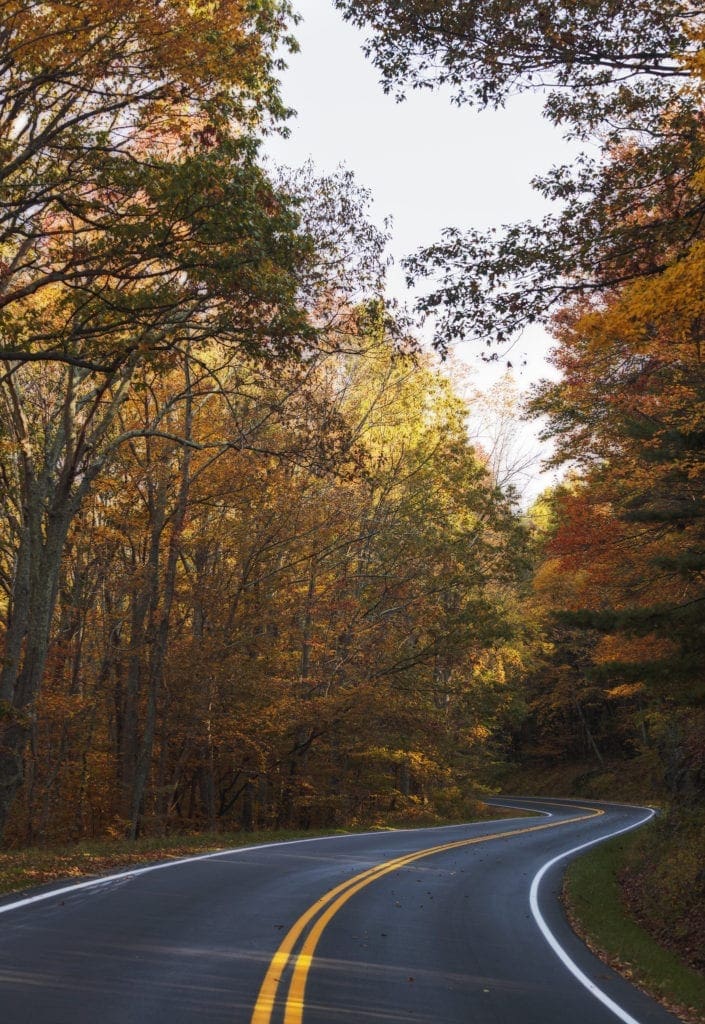 Be sure you will clear Mary's Rock Tunnel (mile 32.2), with a maximum clearance of 12'8″.3
Deer, black bear, wild turkey, and a host of other woodland animals call Shenandoah home and regularly cross Skyline Drive in their daily travels. So be careful and make sure to enjoy nature and your drive at the posted speed limits and really enjoy the wildlife and views via the numerous outlooks.
---
Hiking
With more than 500 miles of hiking trails, our November 2020 – Park of the Month provides a near endless escape to the trails for hikers. Shenandoah National Park also includes 101 miles of the world famous Appalachian National Scenic Trail, the most easily accessed segment of the Appalachian Trail across its length. Hiking within the park offers opportunities to connect to nature, discover history, find adventure, and just relax amid outstanding scenery.2 Here are just a few suggestions of the amazing trails to hike within the park.
For our first suggestion, we suggest checking out Hazel River Falls Hike, a secluded, less trafficked, hike. This 5.3-mile moderate level round trip hike takes you to a gorge with a spectacular water fall. There are plenty of places to stop and relax or take in a snack. This trail is heavily forested and you can most likely count on having the falls to yourself. This hike takes about 5 hours. Download the NPS Guide and Map for this Hike.
For those looking for a more challenging, strenuous hike with amazing rewards, Old Rag Circuit Hike is for you. This hike is not for the inexperienced. Rescues happen throughout the year here for many hikers who thought they could do it, but found out the hard way that they could not. This 9.4-mile very strenuous circuit hike features an adventurous rock scramble and a 360-degree view that makes you feel like you're on top of the world, there's no wonder why Old Rag is the most popular destination in Shenandoah National Park.4 Download the NPS Guide and Map for this Hike.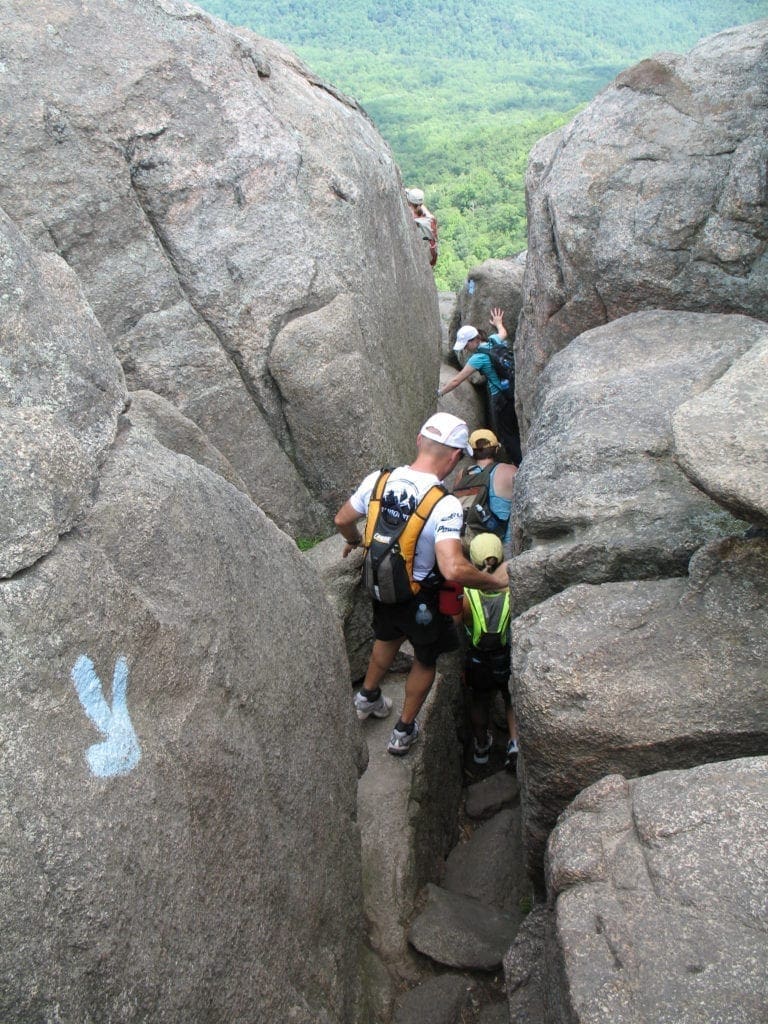 Our last hike suggestion is for the whole family. The Frazier Discovery Trail is a 1.2-mile easy circuit hike with several beautiful overlooks as it passes through woodlands of varying ages on Loft Mountain. This is a great trail hike for understanding how pastures from human civilization can evolve back into beautiful forests and it has a couple of overlooks to see this happening at a larger scale throughout Shenandoah National Park. Download the NPS Guide and Map for this Hike.
With so many hikes throughout the park, Shenandoah National Park has an amazing page to help you discover them all. Recommended Day Hikes.
---
Camping & Lodging
Our November 2020 – Park of the Month has plenty of opportunities for camping and several amazing and historical lodges. Below are the ones that are currently open, as others have begun closing for the season. You can find information for all the campgrounds within Shenandoah here.
Not only can you get a backcountry permit and backcountry camp all year, Big Meadows Campground is open until November 11, making it the last weekend to camp in a developed campground within Shenandoah National Park this year.
The lodges are a better option right now and are open for longer. Two will be open until the end of the month.
Big Meadows Lodge is open until November 15 and is located one mile from the large, grassy meadow at mile 51 on Skyline Drive – a meadow which is ideal for gorgeous night skies viewing. Lodging accommodations range from main lodge rooms to detached small cabins, preferred and traditional rooms, suites, and pet friendly rooms – all located within walking distance of the main lodge building.5 Learn more about Big Meadows Lodge and book here.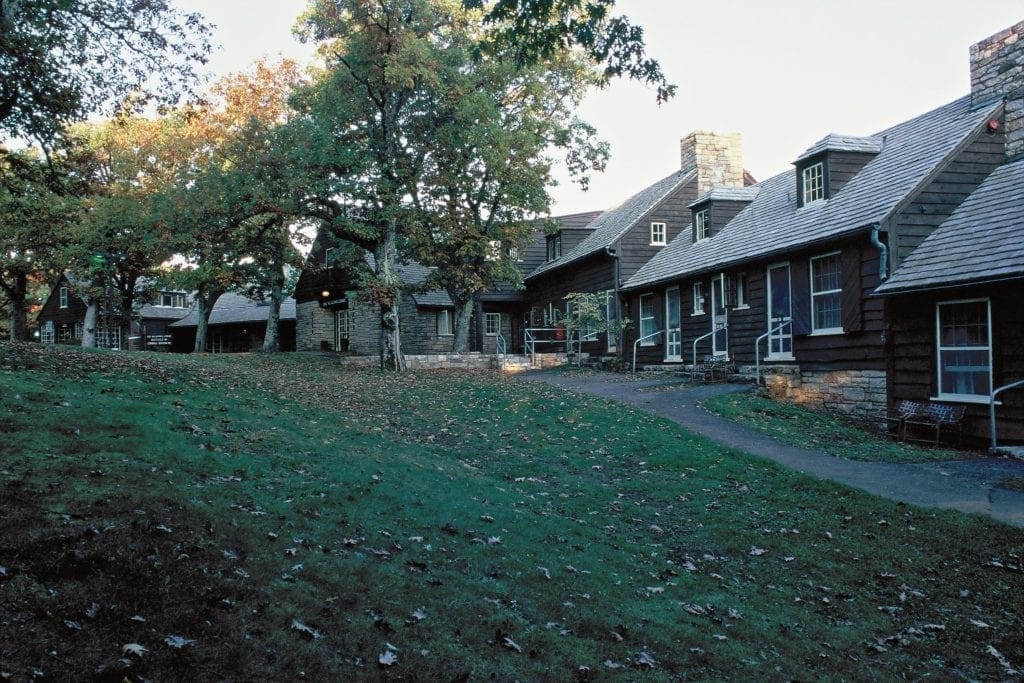 Skyland is open until November 29. Skyland is nestled along mile 41.7 & 42.5 at Skyline Drive's highest elevation – 3,680 feet. Lodging accommodations range from premium rooms to detached small cabins, preferred and traditional rooms, suites, and pet friendly rooms – located in 28 separate buildings along the ridge and in the wooded areas on over 27 acres of Shenandoah National Park.5 Learn more about Skyland and book here.
Lewis Mountain Cabins are open until November 29, as well. Near Luray, VA, with the Blue Ridge Mountains surrounding you, the historic Lewis Mountain Cabins offer comfortable accommodations to families, couples, or anyone seeking an authentic Shenandoah National Park experience. You won't mind the absence of in-room phones or internet access as you "connect" with the tweets of songbirds.5 Learn more about Big Meadows Lodge and book here.
During the winter time, other options are located outside the park that make it easy to hike into the park and still explore this amazing place with a winter look.
---
What's Nearby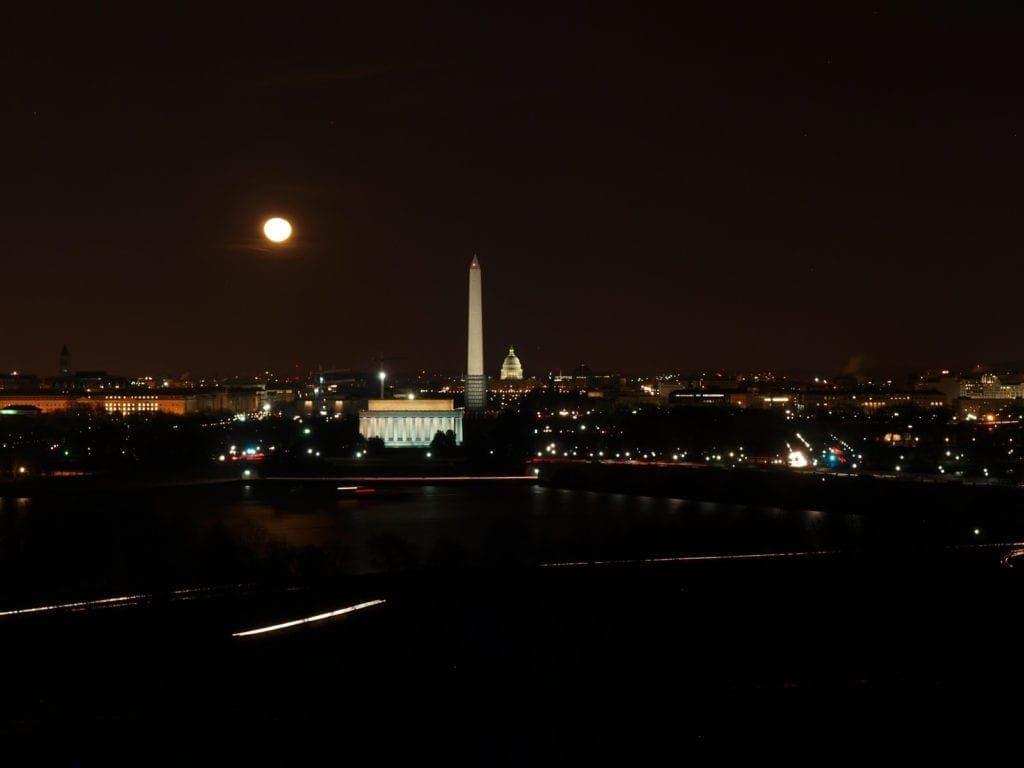 If you are looking for history, obviously you should visit Washington, D.C. The amount of things to do, in our opinion is way too much to do in one trip. Places to checkout, for even a day visit, include one of the Smithsonian Museums, the National Portrait Gallery, or just a leisure walk on the National Mall and Memorial Parks.
The National Park Service is responsible for the National Mall and Memorial Parks and you can see the White House and Lincoln Memorial on one end and walk to the other end to see the Capitol Building and the Supreme Court Building. It is lined with beautiful architecture and a great place to learn about our democracy with all the museums lining the National Mall.
---
For more information about Shenandoah National Park, November 2020 – Park of the Month, and to plan your trip, visit our park page, which includes specific information about the park status in regards to Covid-19. Be sure to check out the more detailed About the Park page with information from the park's Foundation Document.
Have you been to Shenandoah National Park or have a comment regarding our choice? Let us know below in the comments section (really, we want comments).
---
We want you to weigh in and help us decide our December 2020 – Park of the Month on our Patreon Page! Check out the poll here. You can also help support us below by signing up for a monthly donation subscription as little as $1! The better subscriptions will get you access to bonus features only available to those who have subscribed. These donations will help us continue to provide articles like this and add even more information about our parks to the site.
We got some of the above information from the following:
1: NPS – Shenandoah National Park
2: NPS – Shenandoah NP – Foundation Document
3: NPS – Shenandoah NP – Driving Skyline Drive
4: NPS – Shenandoah NP – Old Rag Circuit Hike
5: goshenandoah.com
Check out these recent posts from Discover Our Parks: