Posted: September 14, 2020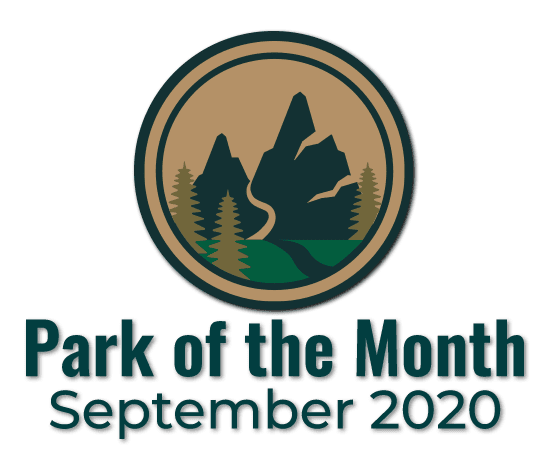 Welcome to the new feature from Discover Our Parks… the "Park of the Month", starting with the September 2020 – Park of the Month! Each month, we will showcase a park on our site and what make it our selection. We will utilize comments, time of the year and other factors when making our decisions. We might even ask you, our adventurers which park you think should be next.
Okay, so, what park gets our first month's "Park of the Month" feature???
Capital Reef National Park
Capital Reef National Park is an amazing park. It was founded in 1971 and is home to a unique nearly 100-mile-long monocline (wrinkle in the earth's crust) called the Waterpocket Fold. The park is home to 1,252 species 9 of which are Threatened, Endangered, or Candidate Species1. The park has an area of 241,904.50 acres. Not only does this park offer a unique natural experience, it is also home to a rich human culture, having "been a homeland to people for thousands of years"2.
Why "Park of the Month"?
We have so many parks to choose from, but Capital Reef National Park stood out as one of the best for our first park because of various reasons. It is one of the few parks at the moment on it's last phase of re-opening from the Covid-19 Pandemic (not to say it can't step backwards). They also are a supporter of #recreateresponsibly (we're a member of this coalition as well). The park is now past it's warmest month, making the slowly falling temps a little more bearable as a semi-desert park.
Though in the desert, it also provides multiple locations that could be considered oasis, where fruit has been historically grown and still is (be sure to check here for the regulations on picking fruit).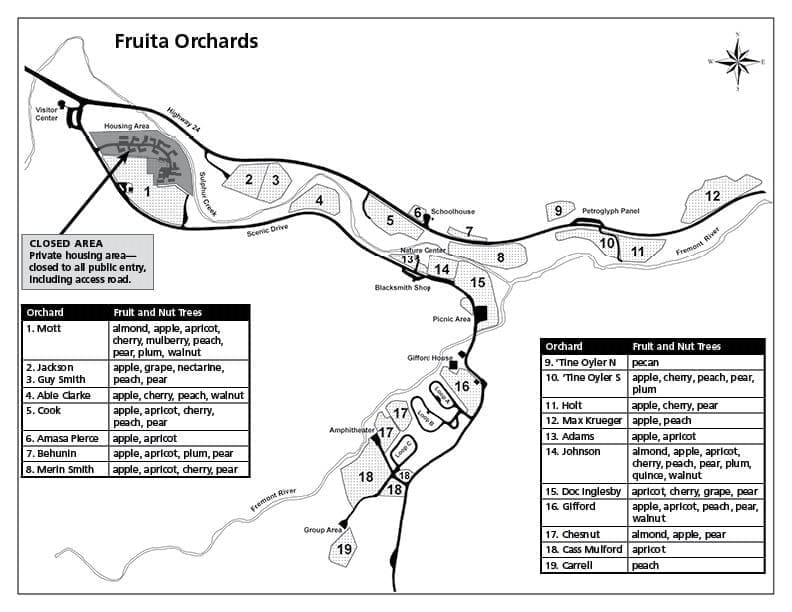 ---
Camping
This Park of the Month only has 1 developed campground, Fruita Campground. It has a good amount of sites, 71, but if you want to really enjoy your stay and can make it work, try either one of the 2 primitive campgrounds located within the park.
The Cathedral Valley Campground is located about 61-miles from the visitor center and in the Pinyon/Juniper-clad foothills of Thousand Lake Mountain. It has 6 sites and is first-come, first-served. The Cedar Mesa Campground has 5 sites, also first-come, first-served and is the jumping off point for the Red Canyon Trail.
Be sure to check information ahead of time, these sites can require high clearance four-wheel drive vehicles to get to them. They are located in the more remote parts of the park.
Another option for the true adventurer is make it a backpacking trip. This is always an experience and can help you see the more remote, less traveled and most beautiful places in the park. Don't forget to plan in detail where and when you will be going to what areas. Bring plenty of water and check with local rangers for information regarding hazards or wildlife before hitting the trails. A free Backcountry Permit is required and can be obtained in person at the visitor center. For more information on the backcountry, visit this link.
If camping is filled or you are a group, Capital Reef National Park has alternatives within about an hour's drive of the visitor center and also has group campsite near Fruita Campground. Reservations for the group site are available 1 year in advance. Check here for more information about all the camping options.
---
Hiking
Although this Park of the Month has many outdoor activities available (like horseback riding, fishing and rock climbing, to name a few), hiking is by far the most popular. The park has 15 day-hiking trails which provide 3 levels of difficulty, starting from easy, quick hikes to longer, more strenuous day hikes. Click here for a full list and more information of the trails and there difficulties.
But the most popular hikes are not on this list. They are a unique feature of the parks in the remote west. They are slot canyon hikes, which are in the more difficult range of hiking, but far worth the expense of energy. The most popular is the Burro Wash Slot Canyon, which is one of the shorter more traveled hikes (about 3.4 miles one-way).
But another less traveled option, and a little longer (about 6.7 miles one-way, but could be 11.6 miles if you want to go the distance), is the Sheets Gulch Slot Canyon. Click here for more information on the slot canyon hikes. And do not forget to do your research and planning before you go. Be sure to check weather forecasts and have a map (you don't need a reminder about the film "127 Hours" do you, though it wasn't this park).
---
For more information about Capital Reef National Park, September 2020's Park of the Month, and to plan your trip, visit our park page, which includes specific information about the park status in regards to Covid-19. Be sure to check out the more detailed About the Park page with information from the park's Foundation Document.
Have you been to Capital Reef National Park or have a comment regarding our choice? Let us know below in the comments section.
Help support Discover Our Parks by becoming a Patron for as little as $1 a month! Your support will help us continue to provide articles like this and add even more information about our parks to this site.
We got some of the above information from the following:
1: https://www.nps.gov/care/learn/nature/index.htm
2: https://www.nps.gov/care/learn/historyculture/index.htm
Check out these recent posts from Discover Our Parks: