About Sequoia & Kings Canyon National Parks
Sequoia and Kings Canyon National Parks preserve and protect the largest and most pristine portion of the southern Sierra Nevada range. Founded in 1890, Sequoia is the second-oldest park in the system, joined in 1940 by Kings Canyon, created expressly as a "wilderness park." Since 1943, the two parks have been administered jointly with one superintendent overseeing the management of both parks.
The parks protect more than 865,964 acres of land (404,063 acres in Sequoia and 461,901 acres in Kings Canyon) and also showcase a remarkable range of elevations from 1,370 feet in the Sierra foothills to the 14,494 foot peak of Mount Whitney. A majority of the lands within the parks are designated as wilderness, which is defined under the Wilderness Act. As of 2015, approximately 808,078 acres were designated wilderness (93.3% of the parks), and 29,516 acres are proposed wilderness, and 212 additional acres are potential wilderness (totaling approximately 96.75% of the park acreage).
As Sequoia and Kings Canyon National Parks protect the largest elevation gradient in the lower 48 states, these parks contain a great diversity of wildlife and plant species. At the time of this publication, there are 12 amphibian species (11 native), 201 bird species (192 native), 11 fish species (5 native), 72 mammal species (68 native), 21 reptile species (all native), and 1,551 plant species (1,355 native), excluding species of unknown status that potentially may occur in the parks. Among the documented species are the Sierra Nevada bighorn sheep, the Sierra Nevada yellow-legged frog, the northern distinct population segment of the mountain yellow-legged frog (which are currently listed as federally endangered), and the Little Kern golden trout and Yosemite toad (which are currently listed as federally threatened). Two species are candidates for federal listing—the Pacific fisher and the whitebark pine.
The most notable organisms found in Sequoia and Kings Canyon National Parks are the giant sequoia (Sequoiadendron giganteum) which are the largest living trees in the world. There are a total of 39 giant sequoia groves in Sequoia and Kings Canyon National Parks, which account for roughly 40% of the area of native sequoia groves in the world.
Sequoia and Kings Canyon National Parks contain three main watersheds (Kings, Kaweah, and Kern) and two lesser watersheds (South Fork of the San Joaquin and North Fork of the Tule). Among these, there are several waterways designated as wild or scenic under the Wild and Scenic Rivers Act (PL 90-542, as amended; 16 USC 1271–1287) and several determined to be eligible and suitable for designation, and therefore, protected to preserve their values in accordance with NPS policies. These waters are highly valuable to the central valley of California for drinking water, power generation, and agriculture.
To date, approximately 275 caves have been found in Sequoia and Kings Canyon National Parks. The number continues to rise, making the parks home to one of the most extensive cave-rich landscapes in the western United States. Caves within the parks include: Lilburn, California's longest cave; caves with endemic cave-adapted species, such as Clough and Kaweah; caves with rare and fragile mineral resources, such as Hurricane Crawl and Ursa Minor; and Crystal Cave, the most popular commercial tour cave in the state.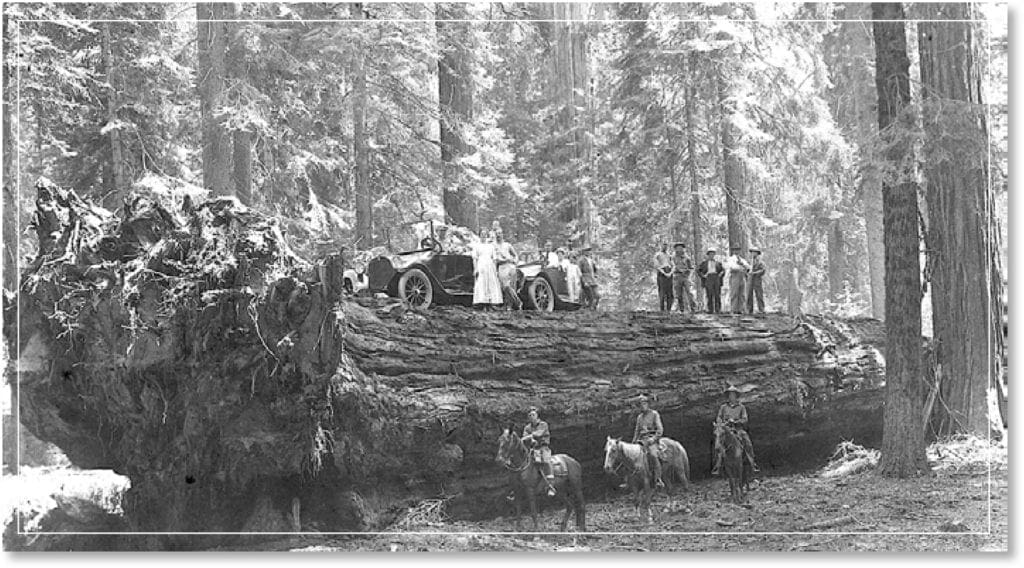 The parks offer a diversity of recreational activities. These include frontcountry activities, such as horseback riding, camping, cave tours, and walks in giant sequoia groves; wilderness activities such as hiking, fishing, horse packing and riding, and mountaineering; and educational and interpretive opportunities, such as visitor centers, museums and interpretive programs. Visitor amenities, such as restaurants and lodging, are also available in the parks, and range from rustic to elegant. As a result, the parks are able to provide high quality experiences that match the diverse recreational preferences of more than 1.48 million visitors annually.
Sequoia and Kings Canyon National Parks are located in central California midway between the greater Los Angeles area and San Francisco. Several communities are near the parks, including Three Rivers, west of Sequoia National Park, and Squaw Valley and Dunlap, located west of Kings Canyon National Park. Visalia and Fresno are also nearby and to the west of the parks. Lone Pine, Independence, Big Pine, and Bishop, California, are gateway communities on the east side of the park, providing a variety of park-oriented recreational opportunities and services, from stock guides, backpacking guides, and other visitor services. The primary access to the park's eastern wilderness is by foot or stock travel through US Forest Service lands. There are no roads crossing the parks east to west.
Sequoia and Kings Canyon National Parks are nearly surrounded by three national forests: Sierra National Forest, northwest of the parks; Inyo National Forest, east of the parks; and Sequoia National Forest / Giant Sequoia National Monument, south and west of the parks. Within these national forests are four designated wilderness areas: Golden Trout Wilderness to the southeast, John Muir Wilderness to the north, Monarch Wilderness to the west, and Jennie Lakes Wilderness to the west. Not only do these undeveloped surrounding lands provide ecological connectivity with the parks, they also help protect the surrounding natural viewsheds and high quality dark night skies as experienced in the parks.
Source: Foundation Document – Sequoia and Kings Canyon National Parks
| This dramatic landscape testifies to nature's size, beauty, and diversity—huge mountains, rugged foothills, deep canyons, vast caverns, and the world's largest trees. The parks lie side by side in the southern Sierra Nevada east of the San Joaquin Valley. Weather varies a lot by season and elevation, which ranges from 1,370′ to 14,494′. | Sequoia & Kings Canyon National Parks | California |
https://www.nps.gov/seki/index.htm
---
Fast Facts:
| | |
| --- | --- |
| Date the Park was Established: | September 25, 1890 |
| Park Area (as of 2019): | 404,062.63 acres (1,635.2 km2) |
| Recreational Visitors (2018 Total): | 1,229,594 visitors |
---
Park Weather
Because of the extreme elevation range in these parks, weather conditions vary widely between areas. In summer, the sequoia groves have comfortable temperatures and the foothills are hot and dry. Snow lingers on high-mountain passes well into summer. In fall, some areas close or reduce their hours. Winter brings snow to sequoia groves and rain to the foothills. Be prepared for tire chain requirements. Spring is a great time to hike in the foothills and snow begins to melt at higher elevations.