Our Wildlife of the Week – 2022 Week 13…
Meet the "Eastern Spotted Skunk"!
(Spilogale putorius)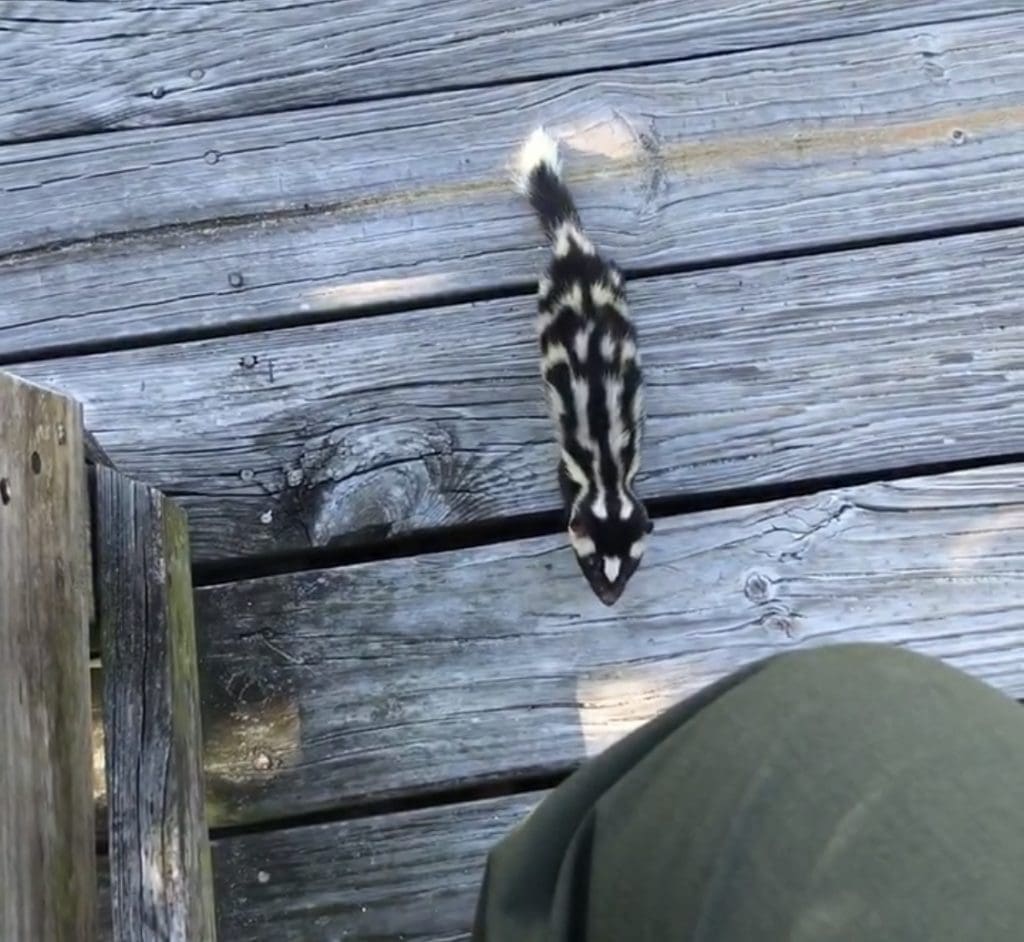 Eastern Spotted Skunk Physical Description
Eastern Spotted Skunks are members of the weasel family. They have large bodies that are low to the ground with a small tapered head. The nose is short and rounded. The head and body length is typically 4.5-13.6in (115-345mm) and the tail length 2.8-8.7in (70-220 mm). Males are slightly larger than females. Females have three pairs of teats for feeding young. The hair is longest on the tail and shortest on the head.1
As in all skunk species, Eastern Spotted Skunks has a well-developed pair of anal glands used in self-defense. They have 34 teeth. There is a small white spot on the forehead and one in front of each ear. There are six distinct white stripes on the anterior part of the body. The posterior part of the body has two interrupted white bands, and one spot on each side of the rump and two more at the base of the tail. There are five toes on each foot. The front claws are sharp and recurved, and are more than twice as long as the hind claws.1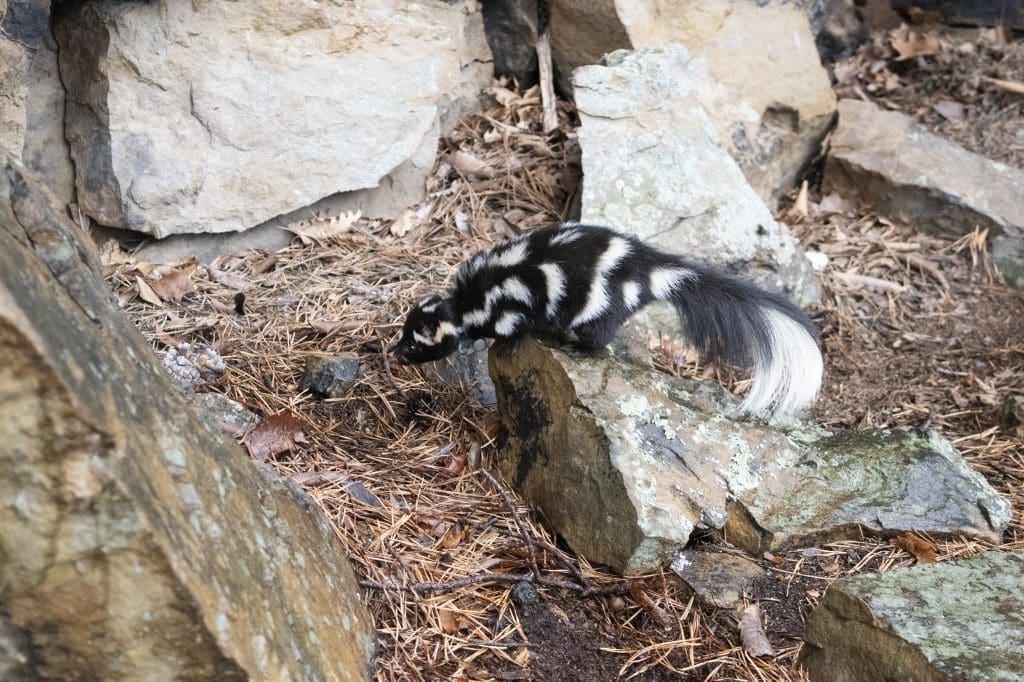 Mating occurs in March and April, although in southern states some females may mate in July and August if they have not mated or lost their first litter. In some cases there have been females with two litters in one year. Males tend to wander and become more active during the mating season, and are know for a condition called "mating madness" in which they will spray any large animals that they encounter.1
The young are born blind and helpless and their bodies are covered with a fine hair that already has distinct black and white markings. Their eyes open at 30-32 days and they begin to walk and play when 36 days old.1
Eastern Spotted Skunk In Action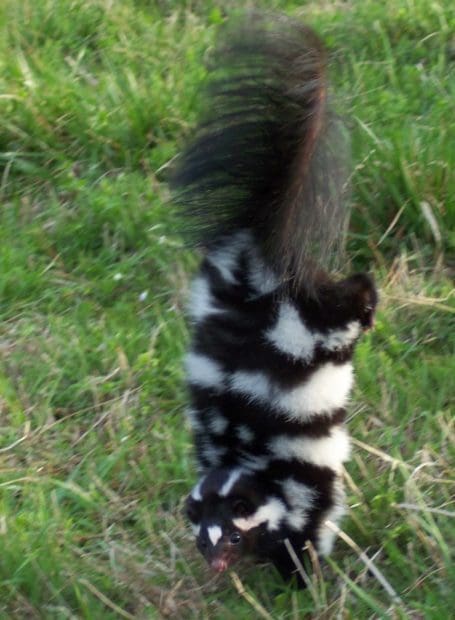 Eastern Spotted Skunks are mostly nocturnal. Spotted skunks are much more alert and active than most skunks. When threatened, a foul-smelling oily secretion from the skunk's anal glands can be projected up to 13ft (4m) and is usually directed at the face of the threatening animal. The spotted skunk is noted for its characteristic "handstand" stance that it takes when threatened. Before spraying its opponent, this skunk raises up on its front legs and turns its head to watch as it sprays. It is also the only member of the skunk family that can climb.
Where to Spot Eastern Spotted Skunk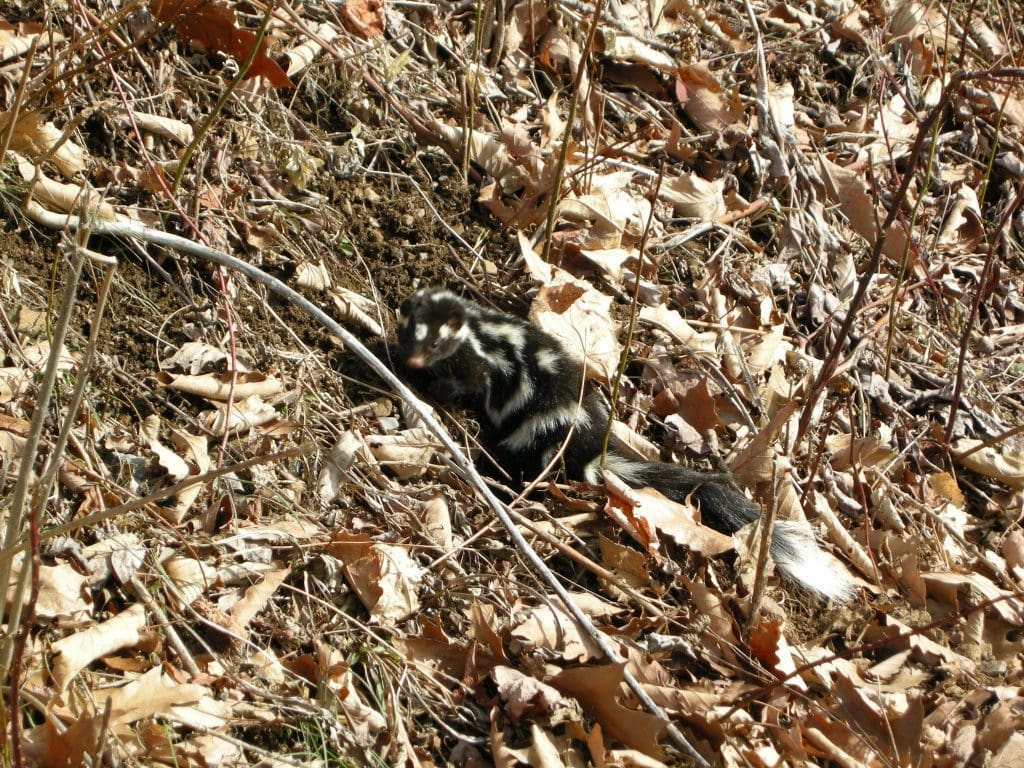 Eastern Spotted Skunks are found throughout much of the eastern United States. They are found as far north as Minnesota and south through Central America to El Salvador. They occur as far west as eastern Wyoming and Colorado. They occur throughout the midwestern states, in the Appalachian mountains as far north as Pennsylvania, throughout Florida, and to eastern Texas.1
Eastern Spotted Skunks occupy mostly wooded areas and tall-grass prairies and many times prefer rocky habitats. They live in holes either self-dug or abandoned burrows from other animals. Except during mating season, these skunks prefer to live with several skunks in one burrow.1
The Eastern Spotted Skunk can be found in over 11 National Parks and many other National Park Service sites.2 Including:
Eastern Spotted Skunk Conservation Status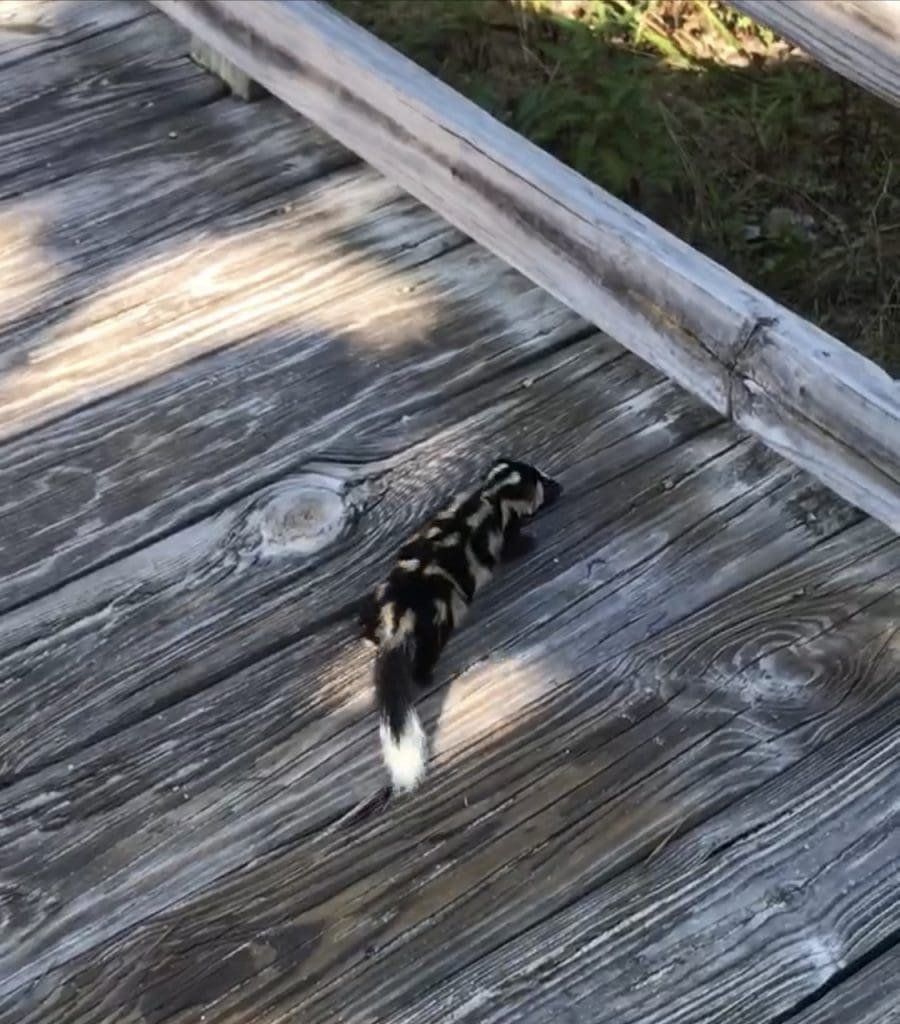 Eastern Spotted Skunks are often accidently killed because they are slow moving and are hit by motorists when they attempt to cross roadways. They are also deliberately killed by humans for their pelts.1
They are not on any endangered lists and are of least concern on wildlife conservation status lists.
Eastern Spotted Skunks are important predators of excess mice, insects, and some birds. Historically, in many areas, small farms provided ideal habitat and food for the spotted skunk. As larger farms have caused land use patterns to change, the population of spotted skunks has decreased in some areas in the east and Midwest. This decrease might be due to the removal of fences, fall plowing, less hay crops, and the use of pesticides (leading to a reduction in food). More research is needed to fully understand the causes for this population decline.3
---
Eastern Spotted Skunk and You
Have you seen a Eastern Spotted Skunk in it's natural environment? Tell us about it in the comments below!
Do you have a picture of these amazing creatures? Share it on social media with us and tag us in your post.
Use the hashtag:
#WildlifeOfTheWeek.
---
Interested in Wildlife Photography???
Check out this amazing beginners guide from National Geographic:
National Geographic Photo Basics The Ultimate Beginner's Guide to Great Photography
The above links are provided in this article as affiliate links. Meaning, at no additional cost to you, we'll earn a commission if you click one and make a purchase. An easy way to help support us if you're going to buy anyway!
---
Learn more about all the amazing wildlife in our National Parks and how to safely "Watch Wildlife" on this amazing page with lots of resources from the National Park Service!
Want tips for photographing wildlife? Check out this great article for tips from the National Park Service.
---
Help support Discover Our Parks by becoming a Patron for as little as $1 a month! Your support will help us continue to provide articles like this and add even more information about our parks to this site.
If you want to make a one-time donation, buy us a coffee!
'We got some of the above information from the following:
1: Animal Diversity Web – Spilogale Putorius – Eastern Spotted Skunk
2: NPSpecies – Find Parks Where a Species is Found
3: Facebook – ShenandoahNPS – May 10, 2012 Post
Check out these recent posts from Discover Our Parks: