Some links provided in this article are affiliate links. Meaning, at no additional cost to you, we'll earn a commission if you click one and make a purchase. An easy way to help support us if you're going to buy anyway!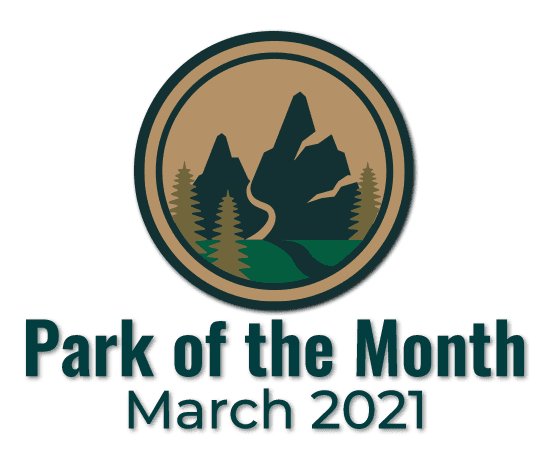 It's time for our "March 2021 – Park of the Month"! Each month, Discover Our Parks will choose a "Park of the Month" to showcase on our site and why we choose to feature it. We will utilize comments, time of the year and other factors when making our decisions. We might even ask you, our adventurers, which park you think should be next.
Without further delay… what park gets March 2021's "Park of the Month"???
Death Valley National Park
The year is 1848. People from all over the United States are headed west to California for the Gold Rush. This year, gold was discovered at Sutter's Mill in California and in 1849, what has become known as the '49ers, a group of them set out from Salt Lake City to find this gold. They headed out, much too late in the season in October 1849, when snow began to fall in the Sierra Nevada Mountains. They heard about the Old Spanish Trail as a safe passage and got a guide, Captain Jefferson Hunt, to lead them on the passage. At the time, the trail had never been used for wagons and large groups.
When things were moving slowly and when the group was not happy with the pace, they decided to use a hand drawn fictitious "short cut" map, provided by a rider who showed up, to shave off what they thought would be 500 miles. So most of the 107 wagons headed this way (#1 on the map), while the others continued with Captain Hunt. Shortly after venturing the "short cut", this group found themselves at a large gaping canyon at the Utah-Nevada state line.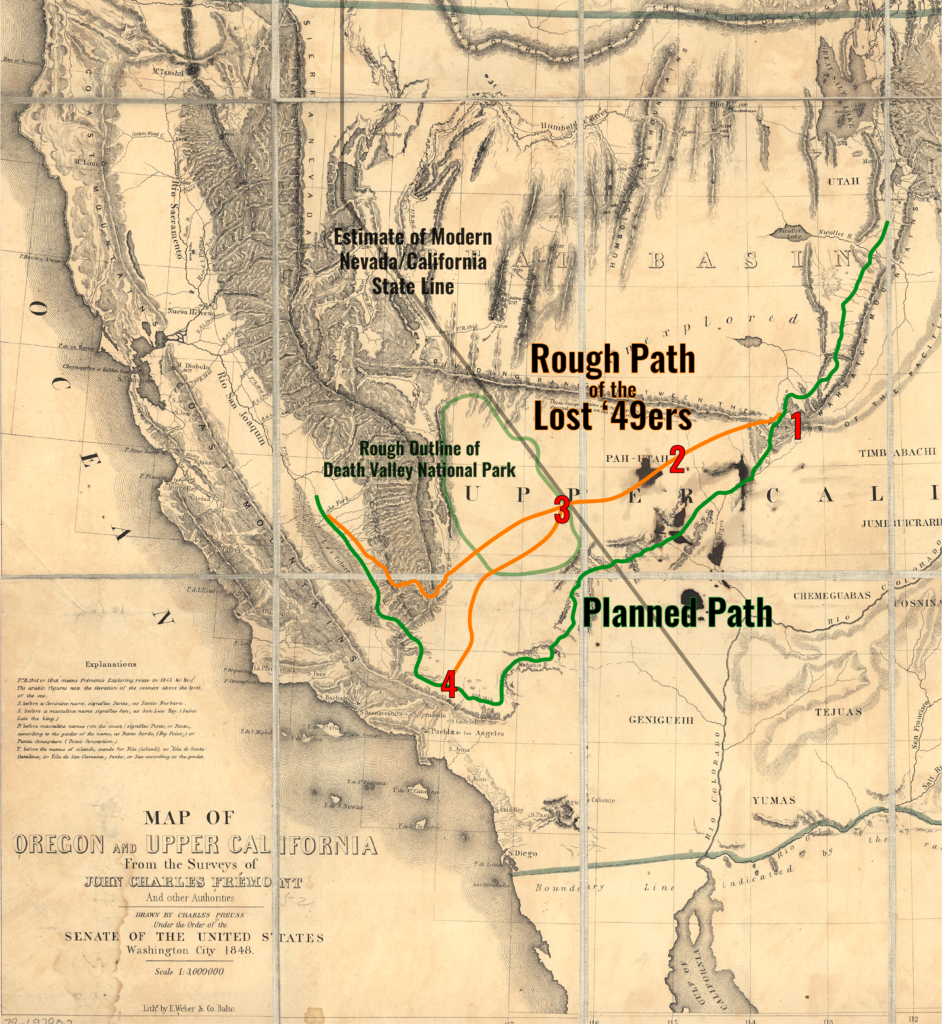 At this point, the "short cut" group split again. Many discouraged headed back to join back up with the main group & Captain Hunt, while about 20 or so wagons continued on. This added several days onto the trip due to traversing the canyon and they also did not have a reliable map. This lead to them believing if they just kept heading west, they would find the pass.
After continuing on over summits and across barren valleys, they ended up at Groom Lake, near the present day town of Rachel (#2 on the map), where they found themselves in a dispute on which way to continue traveling. Despite this, they continued on, before eventually splitting and heading separate ways.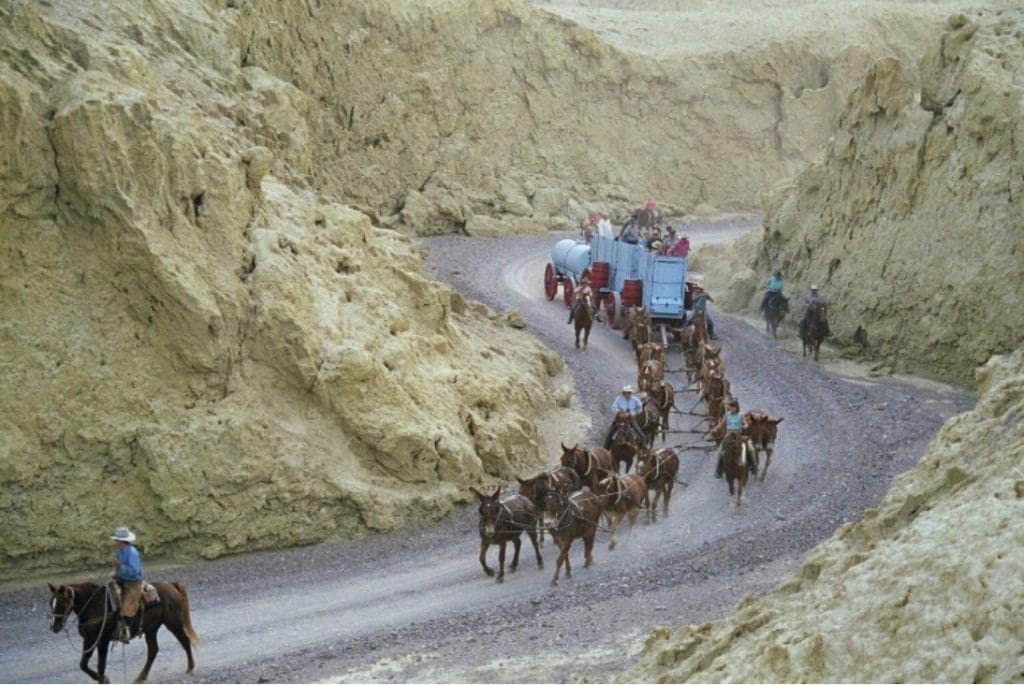 They now meet Death Valley and entered the valley by way of present day Death Valley Junction (#3 on the map) and along the same route followed by Highway 190. In Christmas Eve of 1849, some of them arrived at Travertine Springs, the source of Furnace Creek. The lost '49ers had now been traveling across the desert for about two months since leaving the Old Spanish Trail.
From Furnace Creek, the two groups who had been disagreeing on the route to take, diverged into two groups headed their own paths.
The first group, the Jayhawkers went north toward the Mesquite Flat Sand Dunes where they decided they would have to leave their wagons and belongings behind and walk. After crossing the Panamint Mountains via Towne Pass and dropping down into Panamint Valley, most of them turned south, making their way into Indian Wells Valley near the present day city of Ridgecrest. There they follow a prominent indian trail heading south to civilization.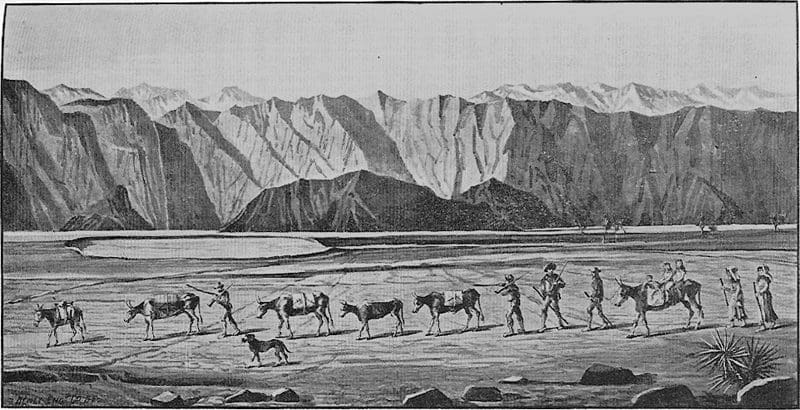 The second group, the Bennett-Arcan party struggled across the salt flats and attempted to pass over the Panamint Range via Warm Springs Canyon, but were unable to do so. They retreated to the valley floor and sent two young men 'over the mountain' to get supplies. Thinking the Panamint Range was the Sierra Nevada, some expected a speedy return. Instead, nearly a month went by as the men walked more than 300 miles to Mission San Fernando (#4 on the map), got supplies at a ranch and trekked back.
When Manly and Rogers finally arrived to the camp of the Bennett-Arcan party they found many of the group had left to find their own way out of the valley. Two families with children had patiently remained, trusting the men to save them. Only one man had perished during their long wait, but as they made their way west over the mountains, someone is said to have proclaimed "Goodbye, Death Valley," giving the valley its morbid name.
In the end, the so called "short cut" that had lured the Lost '49ers away from Captain Hunt's wagon train had proved to take four months and cost the lives of many men through the entire ordeal.1
Why "March 2021 – Park of the Month"?
Originally founded on February 11, 1933 as Death Valley National Monument it was later re-designated into a National Park on October 31, 1994. The park was also designated a UNESCO biosphere reserve in 1984.
Death Valley National Park is the hottest place on Earth, with a recorded temperature of 134 °F (57°C) on July 10, 1913. It is also the driest U.S. national park, and Badwater Basin (-282 feet) features the lowest elevation in North America!2
These conditions come together to make Death Valley a land of extremes, where the powerful heat is a force of nature, and the air further dries everything it contacts.2
This summer, Death Valley reached 128°F, which was the hottest recorded temperature anywhere on Earth since 2017—again making history with our heat!2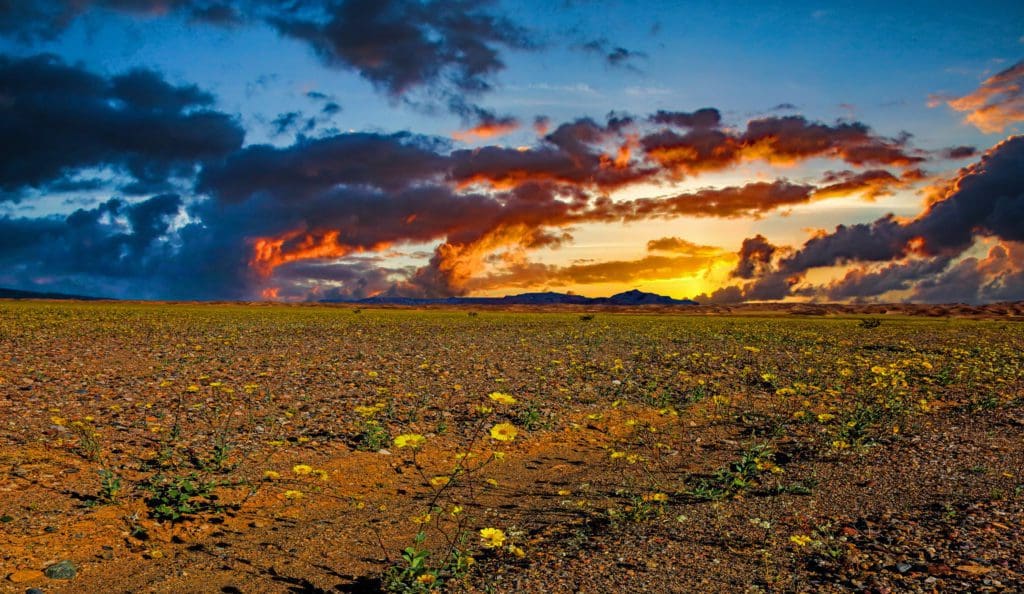 In the cooler winter months, endless exploration and a diversity of experiences await you. Hiking, visiting historic sites, traveling backcountry roads, and seeing the night skies are only a few of the opportunities available!2
With over 3 million acres of federally designated Wilderness, so many adventures await! Walk among majestic sand dunes, navigate twisted slot canyons, climb rocky peaks, or stroll along salt flats during your Death Valley adventure.2
We asked Abby Wines (Park Spokesperson for Death Valley National Park) what she believes makes Death Valley National Park stand out. She said, "Death Valley has vast views, with a stark desert beauty."
We also asked her if a visitor learned one thing from visiting the park, what would she hope it would be? She said, "I really more hope that visitors feel rather than learn. I hope they feel at peace from the vastness and intense quiet."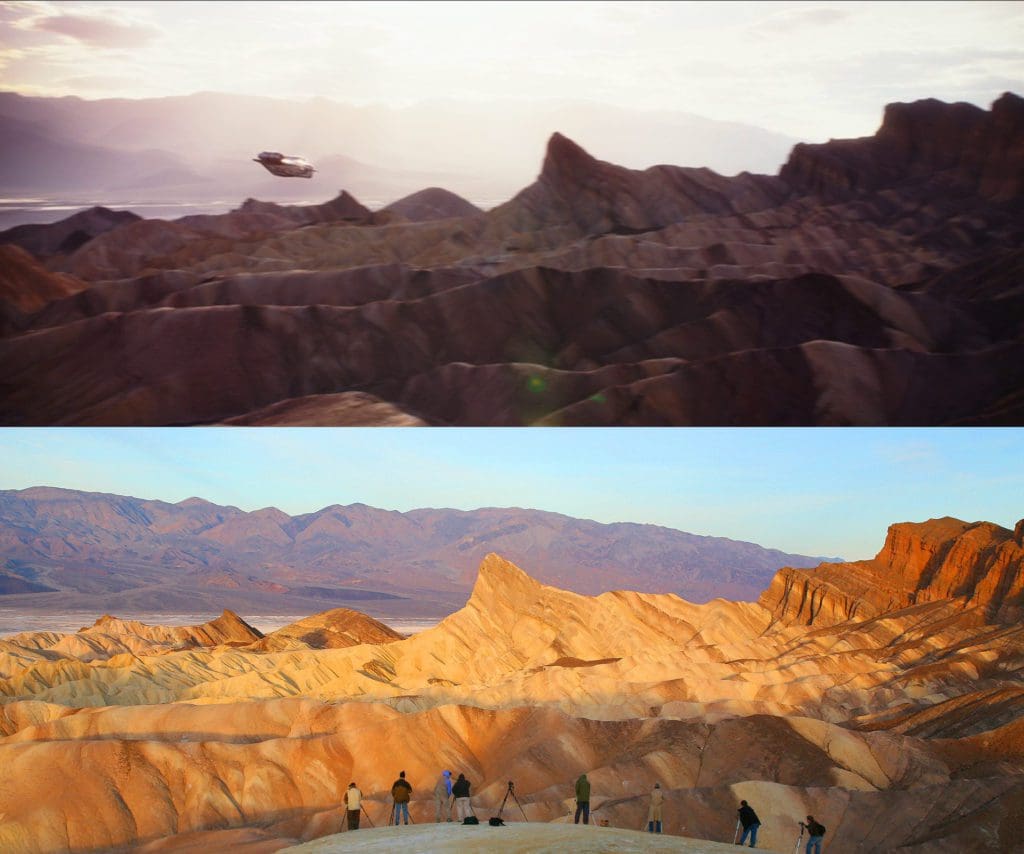 Did you know the park was used for filming some of the Star Wars locations?
Abby says, "Zabriskie Point was used in some scenes in The Mandalorian . . . but they didn't have any actors on location to do that".
Want to visit Tatooine? Then take a trip to Death Valley National Park! The famous movie series, Star Wars, has filmed in the park for Episode IV – A New Hope and Star Wars Episode VI – Return of the Jedi. Locations from Tatooine can be found by visiting several of the amazing sites within the park. Check out this NPS page to learn more about Star Wars in the park.
Some of the below locations or activities are currently not available due to COVID-19 restrictions. Visit our Death Valley National Park page for more information on the status of the park in the COVID-19 Information bar.
---
The Scenic Drives
The first scenic drive, isn't really called a scenic drive, but is actually the main drive into the park, either from the northwest side in California or the Nevada side toward Las Vegas. CA-190 is unofficially known as the Death Valley Scenic Byway.

Although not official, Abby says, "The stops along CA-190 that I would recommend are: Zabriskie Point, Furnace Creek Visitor Center, Harmony Borax Works, Mesquite Flat Sand Dunes, and Father Crawley Point."
Below is some information about a few of these amazing recommendations.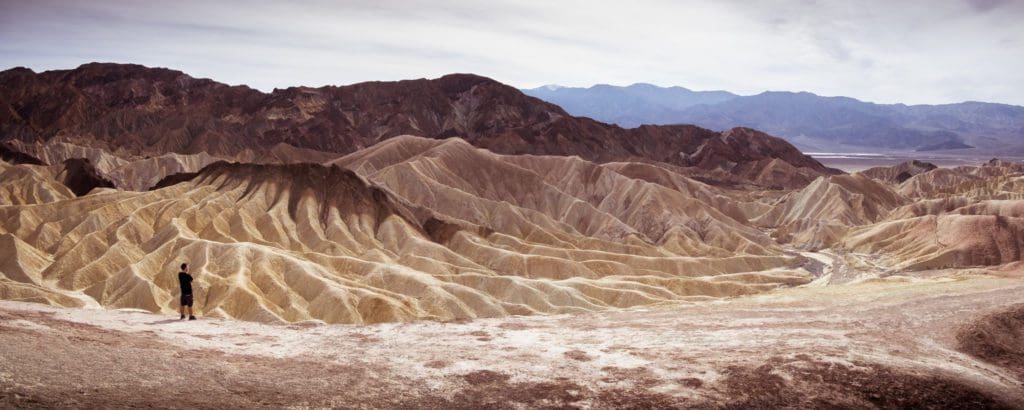 Zabriskie Point is an iconic Death Valley vista, and a favorite location for viewing sunrise and sunset. The spectacular views from Zabriskie Point are some of the most photographed in Death Valley National Park. Named in honor of Christian Zabriskie, a prominent figure in the heyday of the Pacific Coast Borax Company, Zabriskie Point affords an elevated vista from which to marvel at the badlands below.3
These yellow and brown stripped hills have been shaped by the powerful force of water, and even during dry times, the path carved by this water is unmistakable. Gazing beyond the badlands, views of the salt flats covering the floor of Death Valley are visible in the distance, with the hulk of the Panamint Mountains, towering above.3
A 15 minute drive east on Highway 190 from Furnace Creek Visitor Center will bring you to the parking area for this not-to-be-missed view point. From the parking lot, the point is a ¼ mile (400 m) walk up a hill on a paved trail.3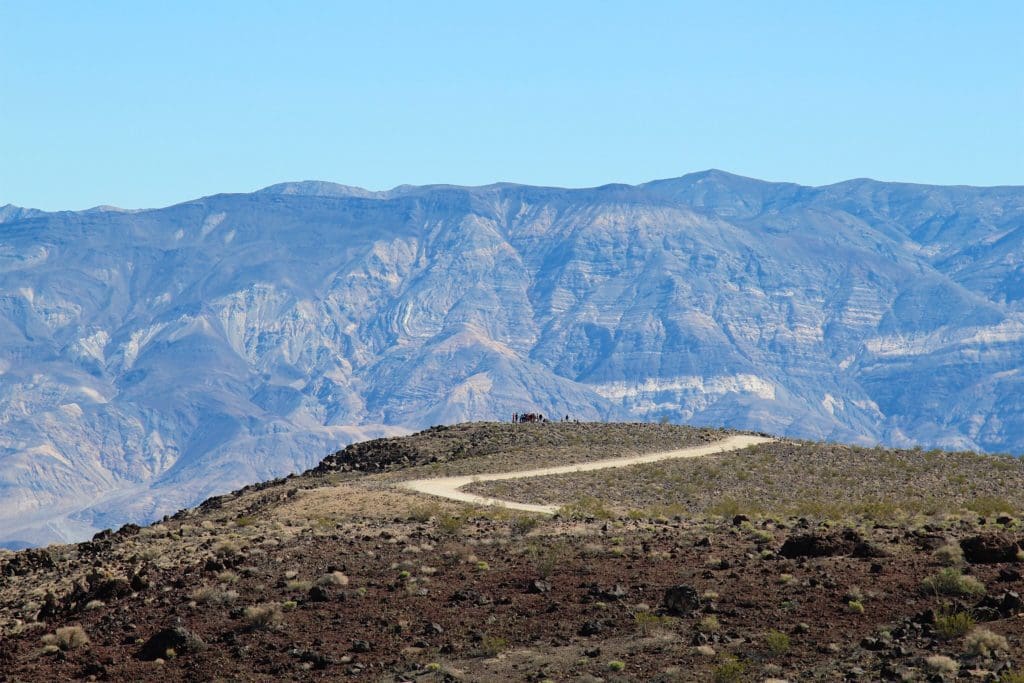 Father Crowley Vista Point was a favorite stopping place for travelers, long before the creation of Death Valley National Park. One of those travelers was Father John J. Crowley, a catholic priest responsible for ministering to the people of Inyo County Parish in the 1930s.The Desert Padre, as he was known, would often stop here to admire the views on his way to or from visiting parishioners in Death Valley, and his home in Lone Pine, CA.4
Located near the western park boundary, this vista point offers a stunning view into Rainbow Canyon, a colorfully striped canyon created by ancient volcanic activity. In recent years, Rainbow Canyon has been nicknamed "Star Wars Canyon" by visitors who come to observe the military test flights which occur in the vicinity. Star Wars Canyon is part of the R-2508 Complex, which has been used by the military since the 1930s. Although it is never a guarantee which days training flights will take place, Rainbow Canyon's visitation has soared in recent years, largely due to its popularity with photography and aviation enthusiasts.4
Abby also said, "However, if all you do is drive CA-190, you're missing some amazing parts of the park! Some of the most dramatic scenery is on side trips, such as Dantes View and along Badwater Road."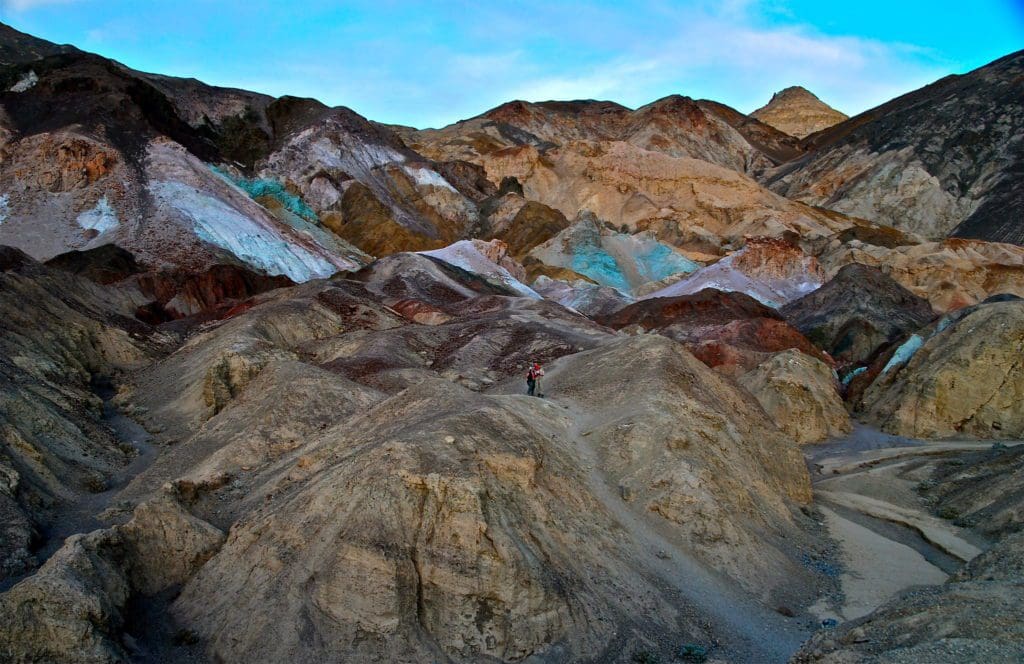 Our second scenic drive suggestion, a popular one for many visitors, is Artists Drive.
Abby says, "Artists Drive Road is a one-lane, one-way road that is limited to vehicles less than 24 feet in length. When you drive it, you'll see why! It provides access to Artists Palette, which is an eroding hillside with green and purple colors."
For more information on Artists Drive, visit the NPS Page about it here.
---
Hiking
Death Valley National Park, our March 2021 – Park of the Month, has many amazing hikes for the laidback easy hikers to the adventurous backcountry hike. Below are Abby's recommended hikes, as well as ours!
Something you may not know about Death Valley National Park is they have a cross-country mindset around hiking. Abby says, "If there is a trail, it's important to stay on it and not short-cut switchbacks to cause erosion. However, there are very few developed trails in Death Valley. Visitors are free to walk nearly anywhere."
She continues, "However, this freedom comes with responsibilities: Be extra careful not to get lost or injured, and walk in places where your foot travel isn't likely to create visible scars. Sand dunes and washes are ideal because they change so quickly naturally. Rocky surfaces are also great because they aren't changed by footsteps. However, walking in mud will leave tracks visible until the next major rainstorm. And walking on soft slopes will cause a visible footrail that will affect the landscape's beauty for a long time."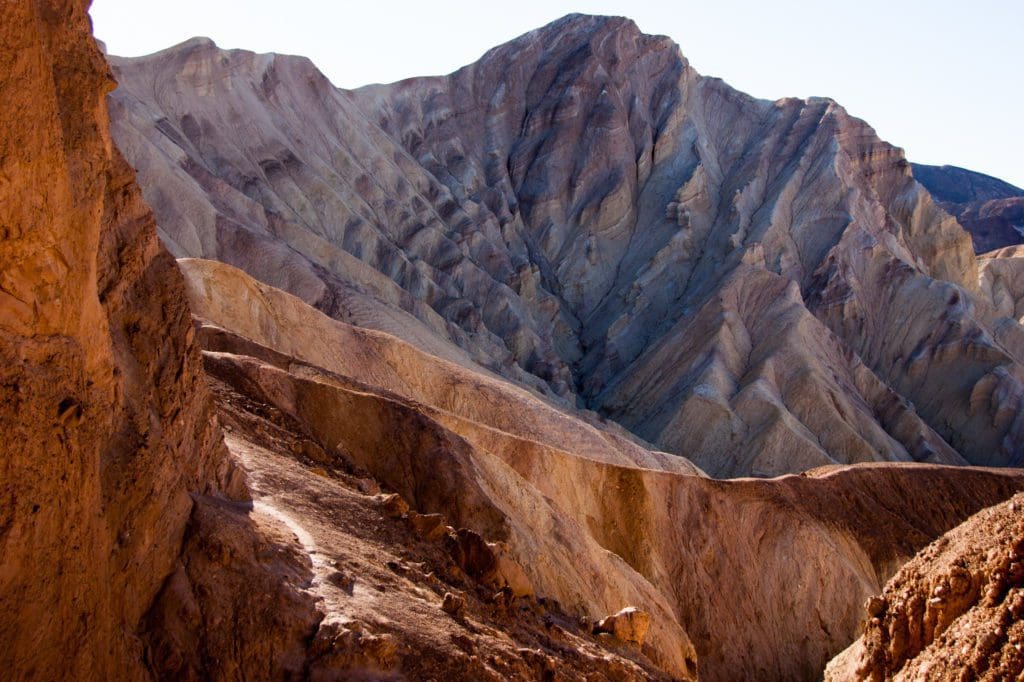 If you are looking for a moderate hike, Abby recommends Golden Canyon/Gower Gulch Loop.
The Golden Canyon/Gower Gulch Loop is a moderate 4.3 mile, 2.5 hour, hike. A maze of canyons and badlands create hiking opportunities galore.5 The route up Golden Canyon is gradually uphill through a rocky corridor of towering golden walls. Look for small signs at each major intersection as you make your way through colorful badlands in search of Gower Gulch. The route from Gower Gulch back to the parking area is gradually downhill offering tight canyon narrows near the canyon mouth where a 25ft (7.6m) dryfall is bypassed on its north side. Minor rock scrambling is necessary to complete the entire route as you climb over and down 4ft (1.2m) ledges.6
For more information about this hike and a map of these trails, check out the NPS page here.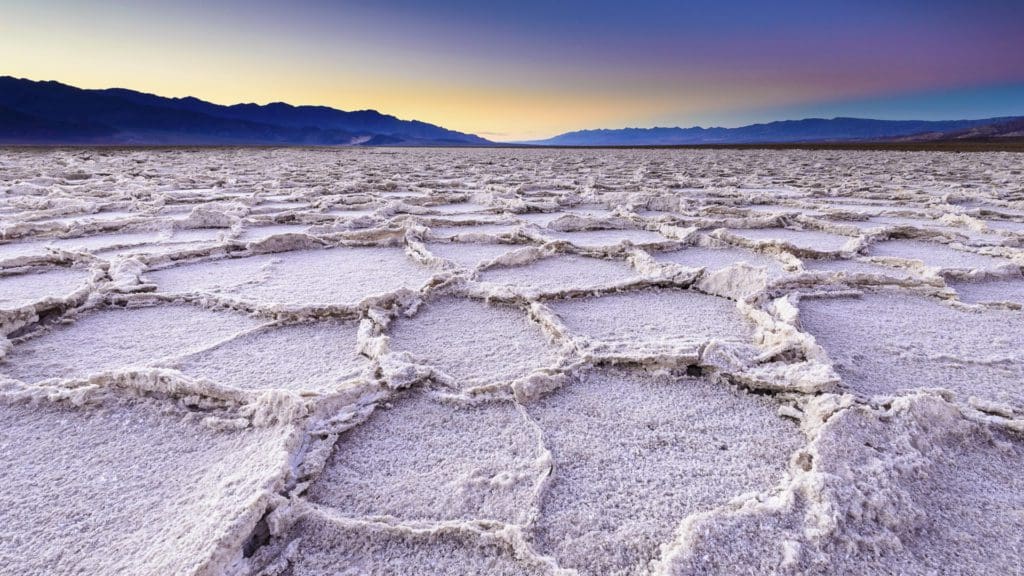 For an easy hike, Abby recommends the Badwater Salt Flat.
The Badwater Salt Flat is an easy 1 mile round-trip hike to the edge of the salt flats, but timing varies on how much time you want to spend hiking around the salt flats. Make sure to not attempt this hike in the summer, as it is very hot and can be dangerous.5
The salt flats in Badwater Basin cover nearly 200 square miles, among the largest protected salt flats in the world.7
Salt flats are too harsh for most plants and animals to survive, yet are quite fragile. Delicate crystals are easily crushed and the relatively thin upper crust of salt can break through to the mud layer below, leaving tire tracks and even footprints.7
The source of Badwater's salts is Death Valley's drainage system of 9,000 square miles—an area larger than New Hampshire. Rain falling on distant peaks creates floods that rush ever lower. Along the way, minerals dissolve from rocks and join the flood. Here, at the lowest elevation, floods come to rest, forming temporary lakes. As the water evaporates, minerals concentrate until only the salts remain. After thousands of years, enough salts have washed in to produce layer upon layer of salt crust.7
For more information about this hike, check out the NPS page here.
For more information on the salt flats, check out this NPS page here.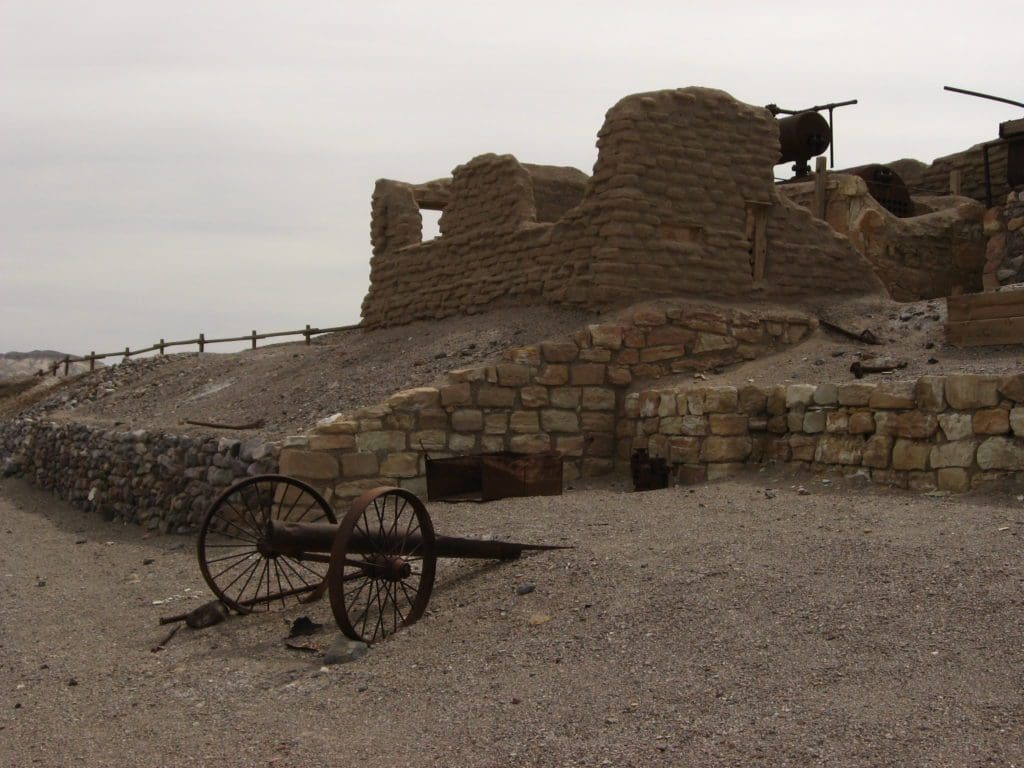 Our next hike suggestion is the Harmony Borax Works, a 0.4 mile, 30 minute round-trip, easy hike (ADA accessible paved loop).
Harmony Borax Works was the central feature in the opening of Death Valley and the subsequent popularity of the Furnace Creek area. The plant and associated townsite played an important role in Death Valley history.8
After borax was found near Furnace Creek Ranch (then called Greenland) in 1881, William T. Coleman built the Harmony plant and began to process ore in late 1883 or early 1884. When in full operation, the Harmony Borax Works employed 40 men who produced three tons of borax daily. During the summer months, when the weather was so hot that processing water would not cool enough to permit the suspended borax to crystallize, Coleman moved his work force to the Amargosa Borax Plant near present day Tecopa, California.8
The Harmony plant went out of operation in 1888, after only five years of production, when Coleman's financial empire collapsed. On December 31, 1974, the site was placed on the National Register of Historic Places.8
The paved loop takes you back in time as you learn the stories of Death Valley borax and the 20-Mule Teams. Interpretive panels along the way explain details of the borax processing, the story of the Mule Skinner, life in Harmony, and more.5
For more information about this hike, check out the NPS page here.
For more information on Harmony Borax Works, check out this NPS page here.

Our last hike recommendation is also Abby's recommendation for a more strenuous hike.
Telescope Peak is a 14 mile, 7 hour round-trip hike to, well… Telescope Peak.
The trail immediately begins as a steady climb along the eastern slope of the Panamint Mountains. Pinyon pine and the sweet smelling mountain mahogany line the trail reaching high overhead competing for light. Hiking through this forested tunnel the trees obscure all but the slightest views of valley floor sitting over 8,000 feet below.9
The vegetation finally gives way to the first of many unobstructed and breathtaking views into Death Valley. For the next 1.5 miles the trail meanders along the flat and narrow ridgeline passing the occasional limber pine and some of the best views in the entire park. The next 3 miles gains over 1,000 feet (305m) as it steeply switchbacks amongst the ancient bristlecone pines.9
The final 0.2 miles up the narrow ridge to the summit may test the nerves of those with a fear of heights. Telescope Peak sits 11,049 foot above sea level. To the east at over 11,331feet below sits the lowest point in North America, Badwater Basin at -282 feet below sea level.9
For more information about this hike and a map of these trails, check out the NPS page here.
Don't forget the best trail map of Death Valley National Park!
Remember most National Parks have little to no cell service, making it difficult to just jump on your favorite mapping app to find out where the best trails are.
For more amazing hiking trails, we totally recommend grabbing a copy of
Hiking Death Valley National Park: A Guide to the Park's Greatest Hiking Adventures (Regional Hiking Series):
---
Camping & Lodging
Our March 2021 – Park of the Month pick has numerous options for staying overnight within the park. From numerous lodging facilities, campgrounds and backcountry trips, this park is made for an adventure!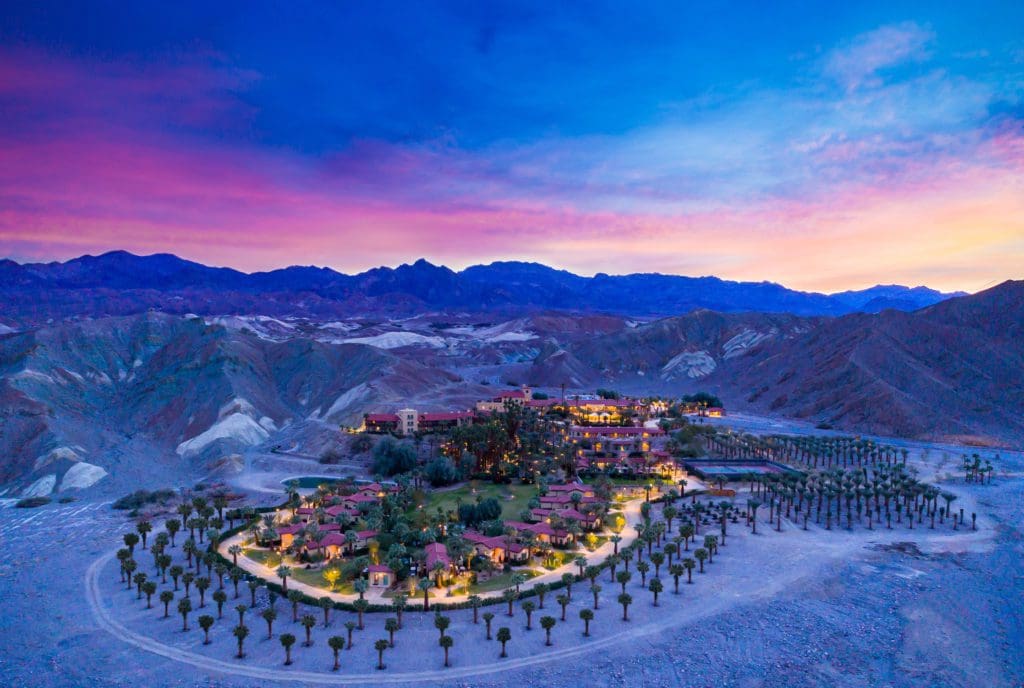 If you are looking for a little luxury in an oasis to escape the hot, dry desert, we suggest The Oasis at Death Valley. The privately-owned historic inn provides first class resort accommodations in the Furnace Creek area.
You don't come to Death Valley because abundant life flourishes here. Which is exactly why an oasis in the middle of it is so special. Only here can you enjoy two distinct hotel experiences: the historic, serene, and peaceful Four Diamond Inn at Death Valley and the family-friendly, adventure-focused Ranch at Death Valley – the energetic epicenter of this True American Oasis.10
Learn more about The Oasis at Death Valley here.
Other lodging is available in the park, including Stovepipe Wells Resort & Panamint Springs Resort. Learn more about the other locations here.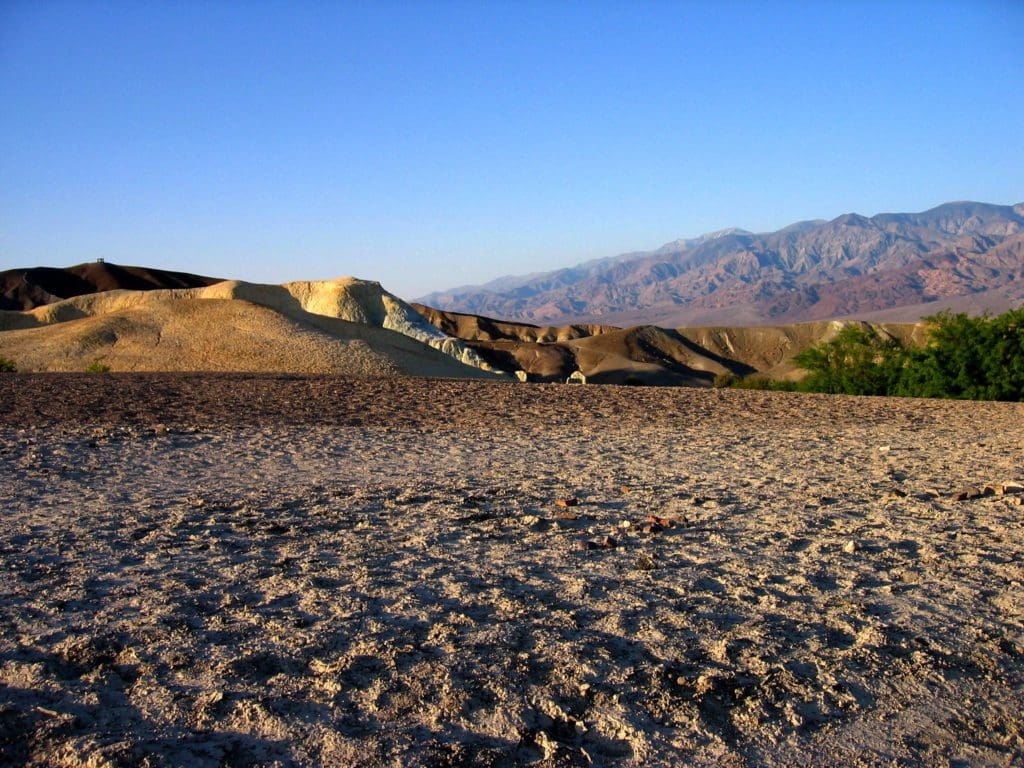 If you are a camper and looking for a little more of the nature when staying in a park, the following campgrounds are perfect for you.
Our first suggestion is Texas Springs Campground, a first-come, first-served campground located close to all the major sites within the park. It has a total of 92 sites.
Abby says, "Texas Springs Campground is only 1 mile from Furnace Creek, but is tucked within badlands hills. It has historic features built in the 1930s by the Civilian Conservation Corps."
This campground is one of the lower campgrounds in the park and due to the heat and dangerous conditions in the summer time, the campground is only open from October 15th to April 15th each year. So if you want to stay here, make sure to visit soon to experience this amazing campground.
For more information on Texas Springs Campground, check out the Discover Our Parks page about it here and the NPS page here.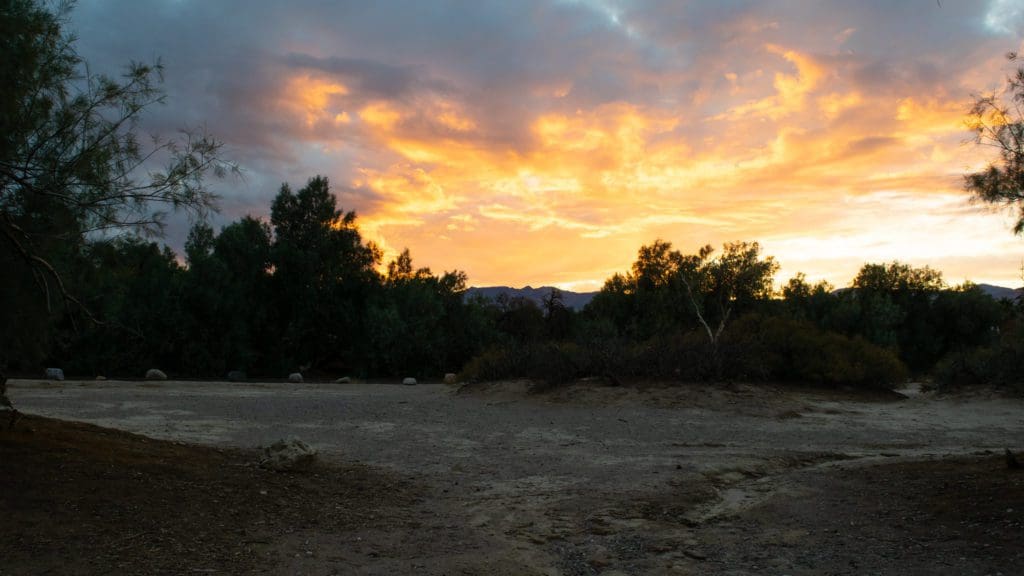 Our next suggestion is the Furnace Creek Campground, reservable only during the cooler time of the year, but open year-round.
Abby says, "Furnace Creek Campground is the only one you can make reservations for (which makes for easy logistics). It is a convenient location, with some trees and nice separation between sites."
This is by far the most popular campground in the park and offers 18 sites with full hookup as well as many shady tent sites.11 It has a total of 136 sites.
For more information on Furnace Creek Campground, check out the Discover Our Parks page about it here and the NPS page here.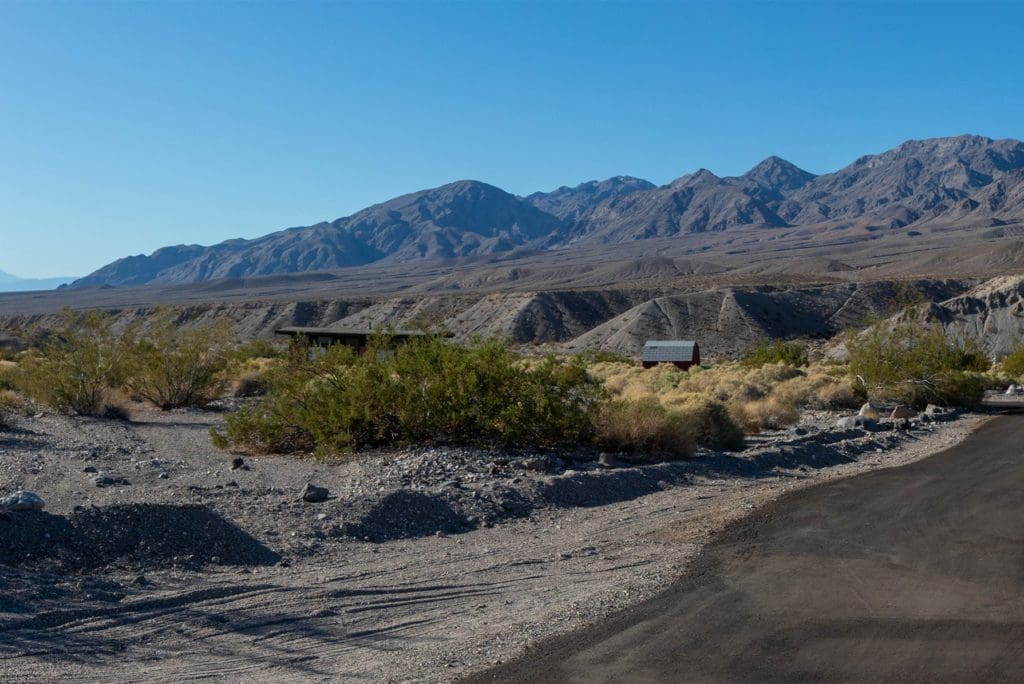 Our final campground suggestion is the Mesquite Spring Campground. This first-come, first-served campground is open year-round and has 30 sites.
Abby says, "Mesquite Springs Campground is in the northern end of the park, farther away from everything. This is actually its advantage. It is typically quieter and has excellent night sky viewing."
At an elevation of 1,800 feet, located 2 miles off of the Scott's Castle Road below Grapevine Canyon the location of Scotty's Castle and Ubehebe Crater; surrounded by desert mountains and geological features. Each site has a firegrate and picnic table.12
For more information on Mesquite Springs Campground, check out the NPS page here.
Are you someone who values privacy when you camp? If so, check out this great guide to help you find the best campgrounds with privacy:
Eastern Sierra and Death Valley Camping With Privacy: Your Guide To The Most Private Campsites Near Mammoth Lakes, Tuolumne Meadows, Death Valley, and Beyond
If you are looking for an adventure filled, multi day trip, backpacking might be your best option to explore the park!
Abby says, "The hike to Panamint City is an out-and-back hike that is best done in fall or spring. Too cold at high elevations in winter, too hot at low elevations in summer. It goes along the Surprise Canyon Wild and Scenic River. Panamint City is a ghost town from last 1800s with a 50-foot-tall smokestack still standing."
If you are planning a backpacking trip, remember backcountry camping is permitted in some places within the park. It is a great opportunity to explore the park's rugged Wilderness. Death Valley is a large, remote place without cell phone service in most areas. Backcountry camping is a great option for those who prepare properly and follow Leave No Trace principles.
Make sure to get a Backcountry/Wilderness Permit if you plan to do this and always share your plans with others, incase of an emergency.
For more information on backcountry hiking and camping, check out the NPS Backcountry Camping page here.
---
For more information about Death Valley National Park, our March 2021 – Park of the Month, and to plan your trip, visit our park page, which includes specific information about the park status in regards to COVID-19. Be sure to check out the more detailed About the Park page with great information from the park.
Remember when visiting any National Park, whether camping, hiking or just visiting a visitors center, always do your part and follow the Leave No Trace principles to help protect the park. Learn more here!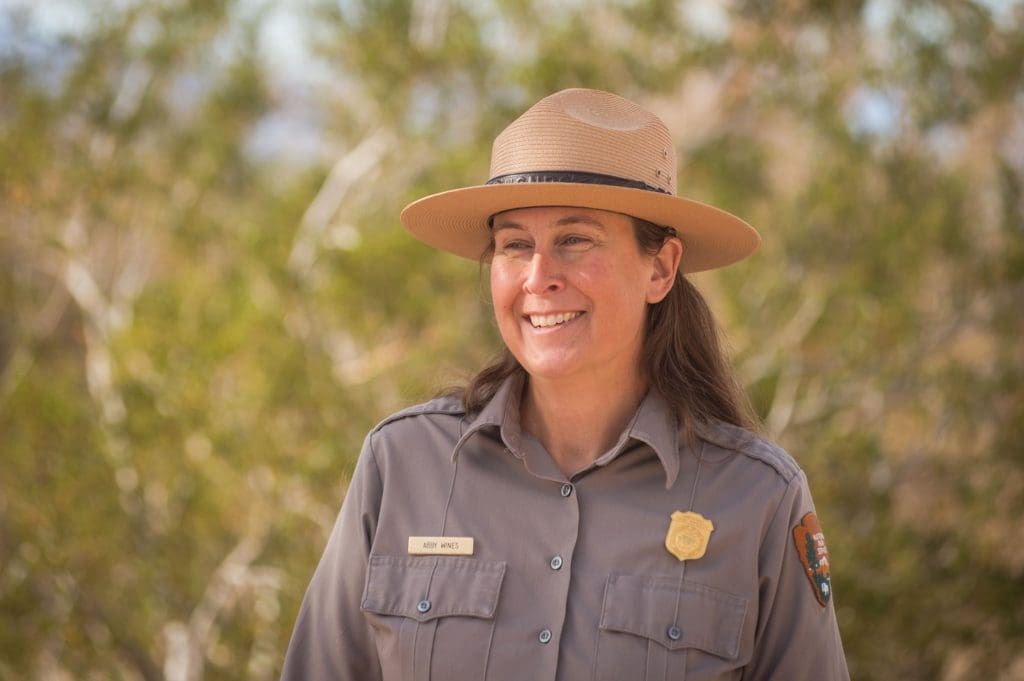 We'd like to thank Abby Wines for her time answering our questions and providing information, recommendations and perspective.
Have you been to Death Valley National Park or have a comment regarding our choice? Let us know below in the comments section.
---
Are you planning a trip to Death Valley National Park?
Don't forget your National Geographic Trails Illustrated Map! Remember most National Parks have little to no cell service, making it difficult to just jump on your favorite mapping app to find out where the best trails are.
---
Help support Discover Our Parks by becoming a Patron for as little as $1 a month! Your support will help us continue to provide articles like this and add even more information about our parks to this site.
If you want to make a one-time donation, buy us a coffee!
'We got some of the above information from the following:
1: NPS – Death Valley NP – The Lost '49ers
2: NPS – Death Valley NP – Death Valley Visitors Guide (Winter/Spring)
3: NPS – Death Valley NP – Zabriskie Point
4: NPS – Death Valley NP – Father Crowley Vista Point- Rainbow Canyon
5: NPS – Death Valley NP – Hiking
6: NPS – Death Valley NP – Golden Canyon, Gower Gulch, & Badlands
7: NPS – Death Valley NP – Salt Flats
8: NPS – Death Valley NP – Harmony Borax Works
9: NPS – Death Valley NP – Telescope Peak
10: The Oasis at Death Valley
11: NPS – Death Valley NP – Furnace Creek Campground
12: NPS – Death Valley NP – Mesquite Spring Campground
Check out these recent posts from Discover Our Parks: